4 Fall Roof Maintenance Tips
It's fall – and that means it's time to get ready for winter! Fall roof maintenance is something that should be done every year to make sure your home is ready for winter.
1. Trim Trees
Trees can pose a massive risk during the stormy fall months in Chicago. If trees are hanging over your roof, it's advised you get the branches trimmed back to keep them from falling on your house and causing damage to your roof. Impact damage can cause shingles of any kind to crack, come loose, or fall off. A key part of fall roof maintenance is preventing future damage, so get those trees checked.
2. Clean Gutters
Gutters are an obvious source of roof and home damage once the snow and ice appears. Make sure you clean your gutters and also get gutter repair services if necessary. Blocked or broken gutters can trap water in your gutters, causing roof leaks. Gutters that are not in good shape can also wash away your foundation over time and cause basement flooding. Gutters are often overlooked when it comes to home inspections and maintenance, so make sure yours are ready for ice and snow before it's too late!
3. Visual Inspection
It's best for you not to walk on your own roof – particularly if it is made of cedar or slate as special training, techniques, and tools are needed and walking on your roof could cause damage. From the ground or a window, look at areas of your roof for sagging, debris, or damaged shingles. If you can see any, you'll need roofing repair services before winter gets here.
More for you here >> Our 10 Step Roofing and Gutter Maintenance Program
4. Call A Contractor
If you spot any loose shingles, cracked shingles, sagging areas of your roof or other obvious damage, it's time to call a professional. Not all damage is obvious either! Sometimes small leaks can turn into big leaks, or there can be damage under your roof as well. It's best to call a professional contractor to help you find all the problems and fix them before winter arrives. DIY jobs can sometimes do more harm than good and trap in moisture or damage your home further – so please call a roofing contractor to help you get ready for winter!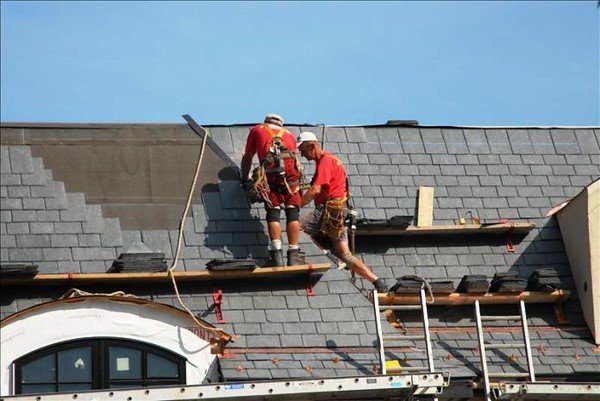 A.B. Edward Enterprises, Inc. has been serving the Chicagoland area for over 15 years with our roofing expertise. In addition to roofing we also offer siding repair services and other home exterior help if you need it! Contact us today for an estimate or an appointment and get your house ready for the cold winter months with some fall roof maintenance!
Here are a few more articles we are recommending for you.
Are you in need of a repair or replacement?
Are you a previous client of ours? We would LOVE to hear your feedback!
Read some of our latest reviews online: