Custom copper gutter add that rich finishing touch to your home.
Copper tarnishes in a beautiful rich pleasing way, contrasting nicely with a natural slate or clay tile roof. Copper gutters add richness to stucco or stone siding completing that breathtaking European contemporary look. Copper has been used in architecture, jewelry, and adornment for thousands of years because it is aesthetically appealing, highly malleable, and has a unique appearance that sets it apart from any other metal.
When we design, we take our design cue from nature herself. The highest compliment we can receive is having our work compliment structures, whether private residences or office complexes, and be in harmony with their surroundings.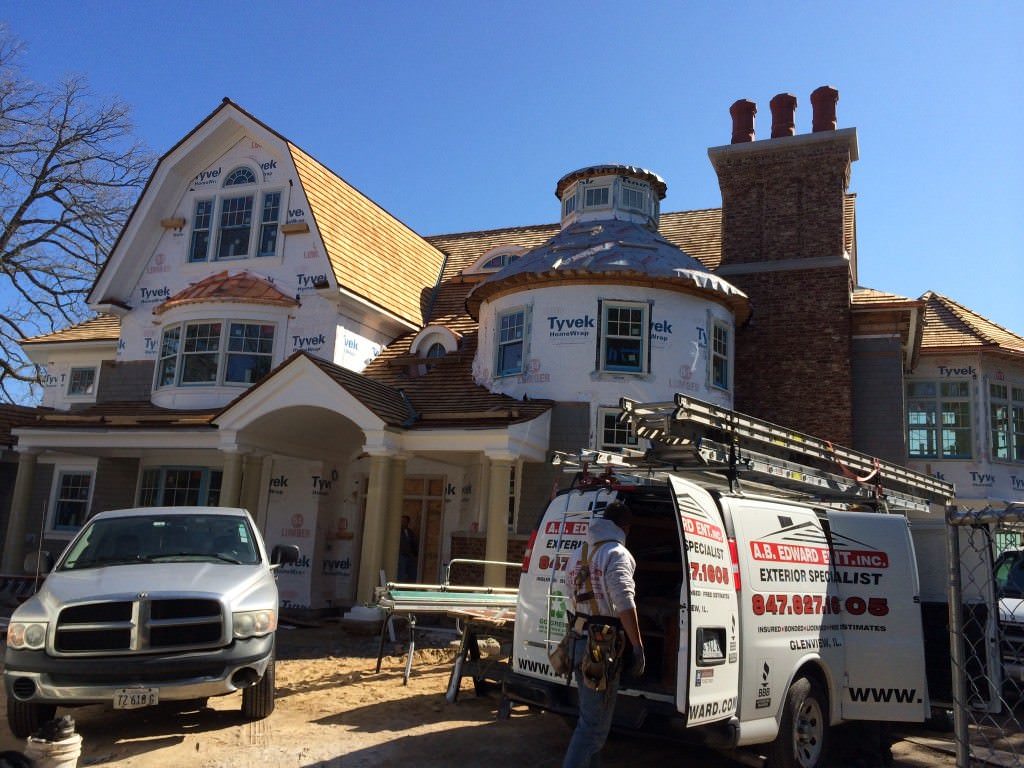 Copper is the ultimate benchmark of any prestigious building throughout the millenniums. Its lifespan is measured in centuries, it will not fade, but will protect itself with unique rich green color from further oxidation. Properly installed, it will remain basically maintenance free. The elegant, timeless beauty of copper combined with its legendary longevity makes it a wonderful investment. Simple, functional gutters become decorative elements when supported by ornamental gutter brackets. A copper finial or weather vane can adorn any straight or peaked roof top and give your property a distinctive crown.
A.B. Edward Enterprises, Inc. specializes in Historical Restoration and Preservation, Custom Copper and Sheet Metal, and Slate and Tile roofs. All custom copper gutters and flashing are hand measured and cut to fit your home. All photos within site are actual photos of our work. We hope you consider us for your next home improvement.
Our products include but are not limited to dormers, cupolas, finials, chimney caps, conductors, roof and wall louvered vents, custom vent hoods, counter tops, column caps, mailboxes, gutter and downspout systems and metal roof systems.
Most products are offered in copper, lead coated copper, pre-patina copper, zinc, stainless, pre-finished steel, pre-finished aluminum and paint grip.
We would welcome the opportunity to work with you in accommodating your custom metal needs.
A.B. Edward - The best choice for copper gutter renovation in Chicagoland
We are a local, family owned and operated company in the Chicago area. Over the past 20 years we have proudly served over 7000+ homeowners with 10,000+ jobs completed and have maintained an unblemished A+ rating with the BBB. We stand by our work and always make sure we do the job correctly, efficiently, and on time. Our team is happy to discuss the many available roofing and guttering options we have for you and provide a quote after an inspection.
Our focus is on our customers, as can be seen by our many positive reviews. We put our customers first and treat them like we would treat our family! Choosing our company is choosing quality products, excellent service, and peace of mind for your home. If you have been considering renovation of copper gutters, contact us today for an estimate. We have already helped hundreds of clients from Glenview, Evanston, Wilmette, Winnetka and many other locations north of Chicago. Whether it's copper gutters, replacing a slate roof or patching leaks, A.B. Edward will be the best choice for your home.
If you are interested in our gutter renovation services, call A.B. Edward Enterprises, Inc. at (847) 827-1605. Our main headquarters is located in WHEELING, IL