Finding The Best Chicago Siding Contractor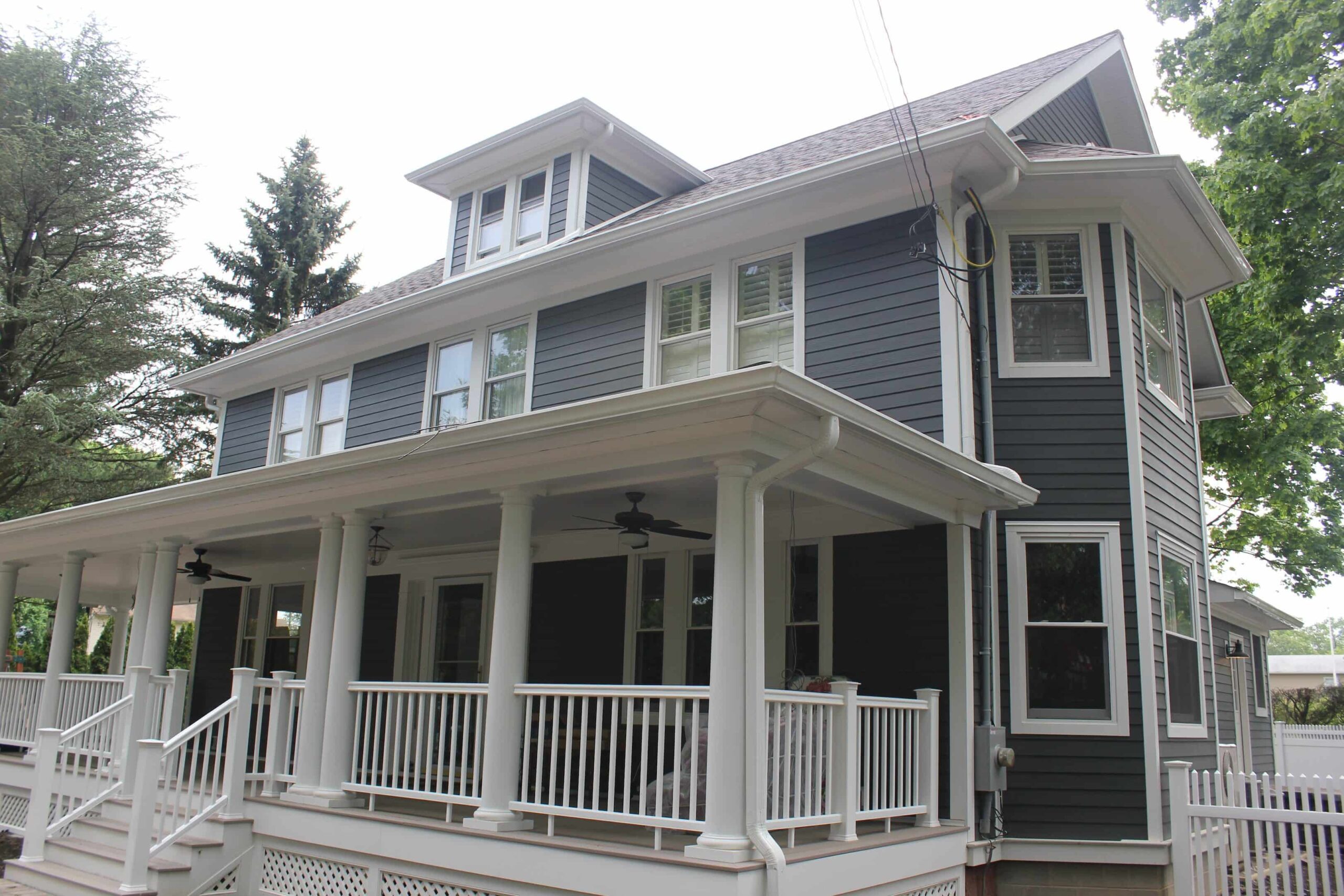 Not all siding installer contractors are the same. In Chicago, it's imperative that you find the Best Chicago Siding Contractor when it comes to upgrading your home's look and functionality.
So your old siding has actually seen better days and it's time to look after this vital house improvement. Depending on the material on your home, you maybe experiencing siding contractor chicago il peeling and decomposing on your wood siding, dents and faded color on your aluminum siding, or maybe you even have some type of old, out-dated material like asphalt shingles or tile panels that may or might not include asbestos on your exterior walls.
A.B. Edward Enterprises is an A+ BBB siding remodeler in the Chicago area. They are a James Hardie Preferred remodeler and have served over 4000+ customers since 2003
Despite why you are altering your house siding, the next choice you must make is what siding contractor do you choose to do the work? Bear in mind, vinyl siding, fiber cement siding, as well as wood siding have rules and methods that should be followed or the task will look bad, not seal your house off from the elements correctly, and won't last like it should. The last thing you wish to do is make a huge financial investment in brand-new siding, only to have to do it all over once more 3 years later since it wasn't done properly in the first place.
Hopefully the following standards will assist you select the best siding installer for your task.
1. Avoid Joe Pick-Ups!
Siding is an intriguing thing due to the fact that any individual with a ladder and some tools can install it … the question is are they installing it correctly? We call these truck and ladder individuals Joe Pick-ups and employing them is like putting your cash on black at the live roulette table. These people never ever have actually established companies, they typically work out of their garages or even worse, travel around working out of their trucks. They almost never ever have the proper insurance protection to secure you and your house from disaster. And if you think you are going to get a service warranty of any kind you are dreaming. They provide a tail light guarantee, you have protection as long as you can see the tail lights of their truck, after that best of luck.
2. Make sure they have a traditional place.
A physical area states a lot about a siding specialist. It shows they are established and you will always understand where to find them if you have to. A place with a display room is a great addition. Although it's not definitely needed, a display room shows a much more well established business due to the fact that they bought displays and extra area to reveal them. It also allows you to visit them and see exactly what they are providing in a bigger setting.
3. The longer the Professional has actually been in Business the Better.
With the recent economic recession, no company was safe, but a company that has actually been around for 5 years is constantly going to be more stable then a business that is a couple of months old. In fact, it is a well known truth that 9 from 10 companies fail within their first 2 years. If your siding specialist bellies up, so does your craftsmanship service warranty. It is worthwhile to pick a siding specialist that has actually been around for some time. The longer the much better.
4. Research the Company Online.
The internet is a terrific tool when it comes to researching any specialist. Just go to google and key in the name of the company. Literally numerous pages of information on a well established company will come up. Note: if absolutely nothing comes up on google, be suspicious! The business is brand-new or has just recently altered it's name for some reason … extremely doubtful.
Any business that deserves it's salt will have a good online reputation. The web age now permits folks to voice their choices and share their experiences with others in real time. Lots of bad information about a business is a definite red flag and a lots of good information goes a long way. If there are just a couple of evaluations … it's a coin toss regrettably.
5. Consult the BBB.
3 reasons that BBB membership is necessary. One, it's not cheap for a business to become a member. This reveals that the business at least is solvent enough to hand over for the membership cost. Two, the BBB is a fantastic company that protects customers by arbitrating disagreements in between people and companies. And three, they note the number of problems a company has actually had in the past three years. Lots of problems … warning!
6. Check out other organizations the Siding contractor belongs too.
Trade organizations and certain market certifications are extremely important. Many item producers have programs that elevate remarkable specialists specifically harder to set up products like insulated vinyl siding. Organizations like the Vinyl Siding Institute have training and screening programs that ensure the siding installer is skilled in the proper procedures and methods for setting up specific siding materials. And memberships into chambers of commerce and other local organizations reveals that the company is established and active in the neighborhood.
7. Examine References.
The greatest red flag that a siding specialist can raise is not being able to give you addresses of siding jobs they have set up. Being able to drive by a couple of tasks to see the quality of the specialists work is extremely important. I would applaud getting a few addresses or a list of work that has actually been carried out in your area before you even have a salesperson come out to measure your home. In this manner you can see the number of theysiding installer chicago, happy customer offer up then you can drive by a few to see the quality of work that was done. If you are truly brave you can even knock on a couple of doors to see how the property owner's experience was with the company.
Feeling comfy about the company that you decide to install your siding is very important. Let's face it, installing brand-new siding on your house is a big financial investment that you want to last. Selecting the most amazing siding specialist isn't constantly simple. However if you do your due diligence and select an installer company with an excellent credibility, that cares about it's work, that is developed, and has references, you will be ahead of the online game when it comes time to have a siding contractor representative pertained to your the home of design and cost your task.
Here are a few more articles we are recommending for you.
Are you in need of a repair or replacement?
Are you a previous client of ours? We would LOVE to hear your feedback!
Read some of our latest reviews online: