Light Mist James Hardie Siding in Chicago
Home design experts now call on grays for the new, go-to neutral. And when paired with a crisp, cool white, you're in for a dose of contemporary elegance. If darker grays feel a little too heavy for your home's siding hue, check out Light Mist. This subtle, delicate gray reminds us of the color of gentle morning fog settled on a mountaintop, light and airy.
James Hardie's HardiePlank® lap siding in Light Mist is a neutral pick with a hint of modernity, making it a smart choice for a main siding color, especially when teamed up with Arctic White HardieTrim® boards. The contrast between the two colors provides a clean pop that'll turn heads.
And you don't have to worry about your gray siding becoming dull. James Hardie's ColorPlus® Technology is engineered with multiple coats of finish baked onto the siding and trim, creating a consistent vibrant finish that performs better and looks brighter on your home. All of which means, your siding will be vibrant longer with less maintenance.
Take a peek at the Light Mist, Arctic White and outdoor blinds standout combination—it may be your new favorite siding and trim pair.
Shingles in Light Mist
We can't get enough of the pristine look of straight edge HardieShingle® siding in Light Mist with HardieTrim boards in Arctic White. This refreshed Cape Cod feels modern and inviting and the matching white pergola adds a touch of custom-made.
Siding in the Suburbs
This updated Colonial style home is clad in HardiePlank lap siding in Light Mist with HardieTrim boards in Arctic White. The siding color complements the red brick foundation and the classic black shutters.
Wisconsin Misty Beauty
The late afternoon sun makes the siding color Light Mist feel subtle and neutral, especially when paired with Arctic White HardieTrim boards. We love the touch of the straight edge HardieShingle siding in the gables, HardiePlank lap siding in the body, and the matching HardieTrim boards and columns. Even though Light Mist is a cool color, it feels warm and inviting.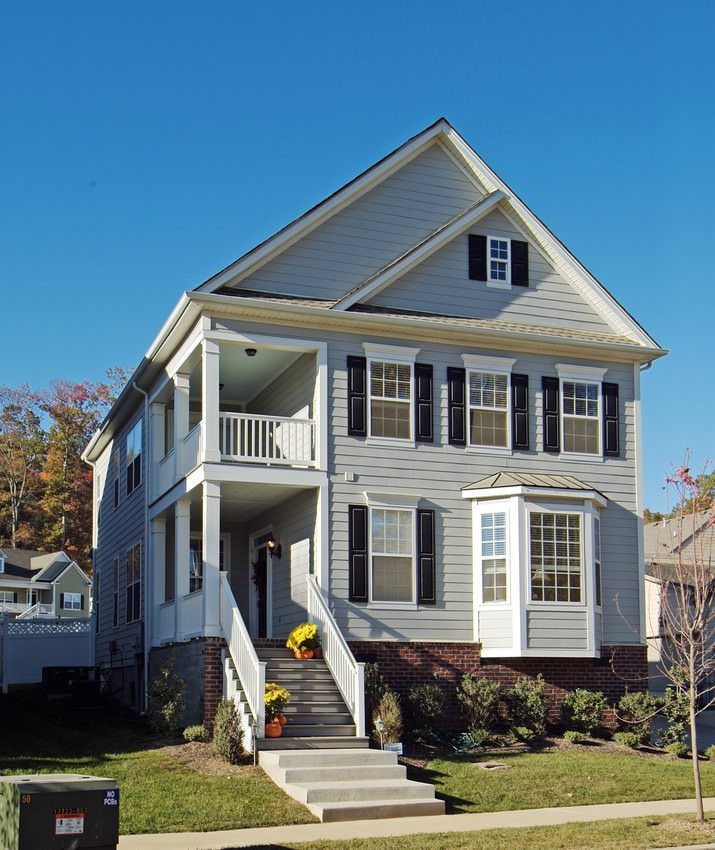 If Light Mist isn't your favorite shade in the family, James Hardie has you covered. New shades of gray were recently added to their collection of colors. Now, you can opt for any shade from light to dark with Pearl Gray, Gray Slate, Aged Pewter, Iron Gray and Night Gray, all of which pair nicely with Arctic White HardieTrim boards.
#1 Siding Repair and Replacement Company in Chicago (847) 827-1605
James Hardie® fiber cement products combine beautiful design with high performance. Time and time again, they beat out competitors on both curb appeal and durability. Enter your Zipcode below to see all of your available James Hardie options. A.B. Edward is a James Hardie Preferred Remodeler.
Here are a few more articles we are recommending for you.
Are you in need of a repair or replacement?
Are you a previous client of ours? We would LOVE to hear your feedback!
Read some of our latest reviews online: