Blueskin VP100 - Timeless Performance
Self-adhered water resistant air barrier membranes from Henry Blueskin are probably the most advanced products in their niche. They are what we use to insulate walls and roofs during our projects. Unmatched quality, value for money and years of testing make there is only one good choice in the insulation membrane market.
With Henry Blueskin self-adhesive membranes, insulating walls is extremely efficient, and no nails or screws are required for installation. This is extremely important, because siding replacement with this technology takes much less time, and the risk of possible leaks is significantly reduced.
Henry Blueskin self-adhesive membranes are a relatively simple invention – in practice, it is a film made of plastics with suitable insulating paramters and low water absorption. Thanks to the installation of such a layer on the wall, water dripping under the siding does not enter the building, and this reduces the risk of mold. The whole trick is to ensure that the film is properly adhered, the stresses are not too high or too low, and there are no air bubbles under the insulation layer, for example.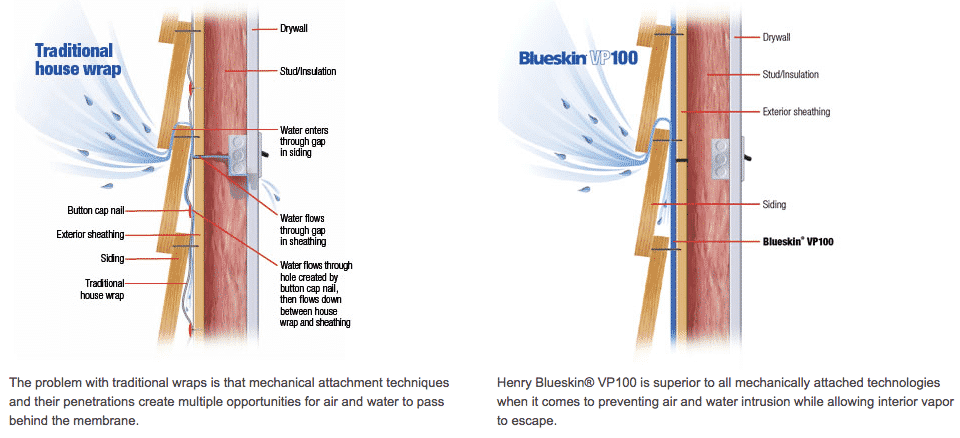 Why Is It Worth Choosing Henry Blueskin Membrane?
You will find many manufacturers of insulating membranes, but only one is worth noting and that is Henry. We choose this product not because it is the most cost-effective for us – we could use other brands that would offer us better discounts, but in the 20 years of our company's existence we have managed to learn that nothing can replace quality. Using Henry Blueskin, we have never yet disappointed our customers and delivered what they expected.
We could really write a lot about the technologies Henry uses to produce his membranes. Tri-laminate polypropylene wrap certainly sounds very professional, but after all, that's not what matters – we're concerned with practical application. VP 100 and other Henry Blueskin products can be installed on literally any material – plywood, OSB, wood, concrete blocks, steel, aluminum. The list is really long, and we are almost certain that sticking a membrane on your house will not only be possible, but also fast and hassle-free. The self-adhesive nature means that there is no need to punch holes in the walls, and this clearly reduces energy losses when heating the building. Experts have calculated that the energy savings range from 23 to as much as 50 percent. Think for yourself, how much money do you spend on heating and air conditioning now?
Let's Talk About Your Project