4 Tips to Picking the Right Home Siding Hue
Stuck deciding on a new home siding and colors? These pointers may lead you to your perfect color pick!
Your siding should stand out and set your home apart while still looking like it belongs in your neighborhood. There's a difference between eye catching and eye sore, so it's important to consider all the factors when picking your next shade of home siding.
When it's time to decide on your siding and trim color, opt for James Hardie® siding and trim with ColorPlus® Technology. All of the curated colors that James Hardie offers are ready to add subtle character to your home's exterior, and since the product's ColorPlus Technology is engineered to help resist damaging UV rays, it means your home's siding color will last longer with less maintenance. Many of these hue are designed and picked to be complementary to each other as well – making narrowing down options much easier.
1. Note the neighborhood color trends
Take stock in the other colors of the homes on the block. If you find your neighborhood packed with creamy-colored homes, you may want to stick with a neutral hue that will look at home in your neighborhood. Choosing a loud and bright shade might make your home stand out – in a bad way! If you are truly hoping to add a personal touch that's bright and eye catching you can always add a pop of personality with a bright-colored door, shutters or potted plant. Alternately, if you live within a strip of brightly colored homes, you can choose a lively hue to continue the theme of brightness on the block.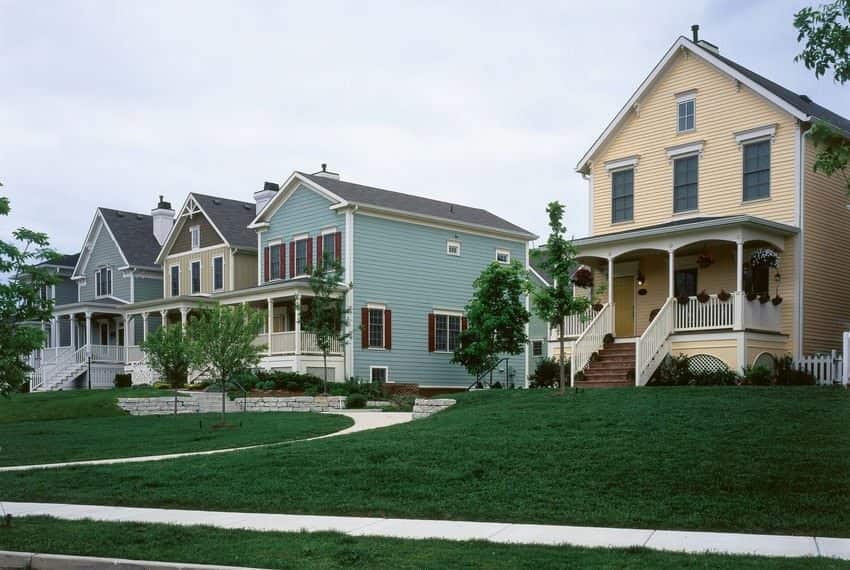 2. Let architecture be your guide
Your home's architectural style can lead you to a siding color that fits its form. If you have an old Victorian, you may want to incorporate a neutral HardieShingle® siding in the gables, or if you have a craftsman cottage, the natural wood texture of HardiePlank® lap siding can make the home look simple yet spacious. Be mindful of how your new shade will look on all surfaces of your home. Bright purple on a Victorian style home will not look remotely the same as bright purple on a ranch style home. A good rule of thumb is if you have an older more historic home to go with more neutral and period appropriate shades. Also – if your home is on a historic register there may be rules regarding what colors you are allowed to choose!
Picked for you >> 33 Amazing Ideas That Will Make Your House Awesome
3. Survey your surroundings
The environment around your home can easily inspire your siding selection. If your yard is scattered with tall pines or old growth trees, or near the Midwest's sandy dunes, you may opt for colors in the green or neutral color palette that will highlight your home in the middle of natural beauty. On the other hand, if you are in a shady spot or live near darker evergreens or are surrounded by deeper colors you may want to choose a paler shade to make your home more visible and boost it curb appeal. In any event, choosing a color that obviously clashes with the natural colors near your home will not help your house look its best or increase its value.
4. Complement the roof
The color of your roof, which likely isn't changing anytime soon, can help you choose your home siding and trim. After all, you want the color of the roof to complement your home siding hue. If your roof is gray, you may want to stick with colors in the gray family, or if the roof is brown, you can steer more neutral or creamy with your siding and trim selections. Clashing home siding colors with your roof is a huge no-no, unless you are due for a roof replacement and plan to fix the color clash soon! The color of your roof and your siding does not need to match, but they do need to complement each other to keep your home looking its best.
If you are looking for help with your siding project, or are looking for a siding overhaul, A.B. Edward Enterprises can help! We have been serving the Chicagoland area since 2003 with our expertise in home exteriors. Contact us today to talk about your project ideas and home exterior goals!
Here are a few more articles we are recommending for you.
Are you in need of a repair or replacement?
Are you a previous client of ours? We would LOVE to hear your feedback!
Read some of our latest reviews online: