Siding Replacement or Repair on Your Home
Siding is one of the essential parts of your home. As a homeowner you will need to repair or replace your home siding. A lot of available choices will get you confused in deciding the type of siding on the house. Siding will enhance the curb appeal of your home. As a home owner in Chicago you will have to contact Chicago siding contractor. Following types of siding are discussed here. You may analyze the comparative pros and cons which will help you in making a better decision.
The first one is Fiber cement Siding which comprises of sand, cement and wood fiber. It is thicker than vinyl and is more protective against weather than vinyl. As its components are much stable, therefore weather changes do not affect it in terms of contraction or expanding. And durability of paint on this siding is too much longer. In case of Chicago siding replacement fiber cement siding is more beneficial because of its low maintenance, high weather resistance, making your home look like a new one and affordable price.
The other one is engineered wood siding. It is the latest type of siding which is composed of bonding wood shavings, sawdust and other bonding agents to make it look like wood. Because of its featured strength and wooden material it can be factory painted and highly resistant to weather. If you are looking for Chicago siding, you may go for selecting this type because it needs to be repainted after 5 to 10 years only. It looks like wood but has longer life and is stronger than natural wood. It has about five decade's manufacturer warranty.
James Hardie Siding Contractor Chicago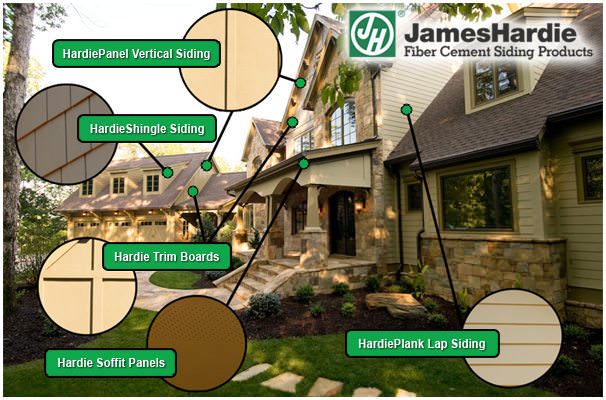 Here is vinyl siding which is most commonly used for single family home. During early days it had not been too much durable against extreme heat and cold but the new technology has transformed it a durable. The only pitfall of using vinyl siding is that you will have to replace the whole section. You cannot repair it and paint it over and over. But in terms of cost this is very inexpensive and has lifetime warranty.
Now come to repairing the siding of your home. Sometimes damage occurs to aluminum, vinyl or wood siding due to any factor like weather or animal. Normally it is not too much appealing but may cause a greater loss due to water. As a homeowner in Chicago you will need to get in touch with siding repair company Chicago to get your work done. While repairing compatibility with the old siding is of great importance.
Here are a few more articles we are recommending for you.
Are you in need of a repair or replacement?
Are you a previous client of ours? We would LOVE to hear your feedback!
Read some of our latest reviews online: