Tips To Keep Your House Cool During A Heat Wave
Keep Your House Cool: Heat waves are a great excuse to soak up the sun and enjoy the warm weather, but they can also be a real pain when your bills come in. Summer can be hot but also pricey! Keep your house cool and your air conditioning bills low with our easy to follow list!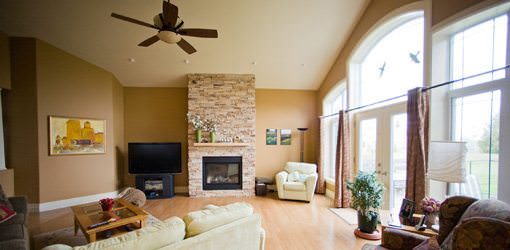 1. Close Blinds and Curtains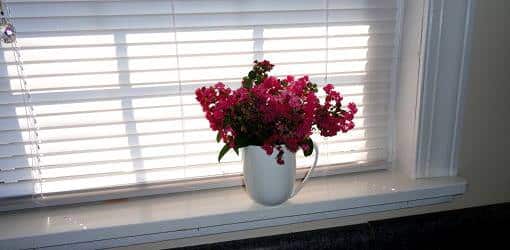 On those beautiful bright sunny days it's easy to overlook just how much heat you are allowing in your home through you windows! Light passing through the glass on your windows can have a greenhouse-like effect and heat your home. Using blinds (even mini-blinds can help with this if that's the look you prefer!) and curtains to deflect light and heat back outside can keep your house significantly cooler for less. Solar sun screens and window film are other options that can greatly reduce the heat coming through windows if you have a craving for sunlight, otherwise, only open your blinds at the cooler parts of the day like dawn and dusk.
2. Install Cool Lighting
To keep your house cool you have to think about the little things. Incandescent light bulbs can significantly heat up a room, and as they are practically a thing of the past and not very energy efficient, at this point you should consider replacing them anyway. Replace standard bulbs with high-efficiency, low-heat CFL (compact fluorescent lights) or LED (light emitting diodes) bulbs, as these do not generate as much heat and turn off lights when they're not needed to save overall on your energy bill.
3. Cook Wisely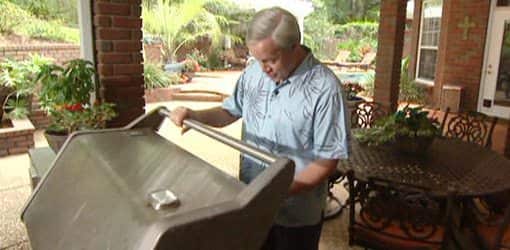 Eat cold meals, cook outside on the grill, or use the microwave for cooking when possible to minimize heat indoors. Ovens and stovetops can quickly raise the temperatures in your home, making it hot and stuff quick! If you do decide to cook indoors:
Cover pots to minimize indoor humidity.
Use the range hood or vent fan to push hot or humid air outside
Check the oven by turning on the light and looking through the glass, rather than opening the oven door – this keeps heat from spilling out and making your home hot

4. Turn Off and Unplug Electronics
Most of our electronics produce more heat than we realize, particularly when you are trying to keep your house cool. The bigger the screen the more electricity is required and the more heat is generated. Computers, TVs, and other electronics generate quite a bit of heat when sitting idle or even when turned off, so unplug devices when not in use. If you don't want theh hassle of running around your home unplugged everything every day, an easy way to do this is to plug electronics into a surge protector which has an on/off switch, then turn the switch off when the devices are not in use.
5. Repair Windows and Doors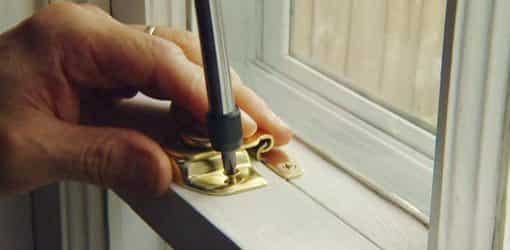 Heat can seep through windows and doors if they aren't closed tightly or are in bad repair – meaning you are paying to let your air conditioned cool air outside! Older single pane windows and doors without proper weather stripping are the worst culprits year round for energy costs. Replace any old models of windows and doors if possible.
If you can't replace your windows and doors with more energy efficient models, visit Payless-Locksmith.business.site for a professional quote first, and then repair any gaps in or replace weather stripping around and under windows and doors. Also, don't open windows at night unless the temperature drops to the mid-70s F or lower, even though it might be tempting to let some of the nice summer air in.
6. Use Fans for Cooling
A paddle ceiling fan or portable fan uses much less energy than an air conditioner, but they're only effective when you're in the room to feel their cooling effects, so turn them off when you leave.
Did you know the direction your ceiling fan is running will have an impact on you being able to keep your house cool? Run ceiling fans in a counterclockwise direction (when looking up) when you're in the room to help keep you cool through evaporation!
7. Clean Air Conditioner Filters
While your AC system is working overtime in the summer, the filter is getting more use than usual, and therefore is going to get dirtier. By changing the Portable AC air filter every month or so during this high use season allows air to flow easily through your HVAC system, making it run more efficiently and saving energy.
8. Put Off Chores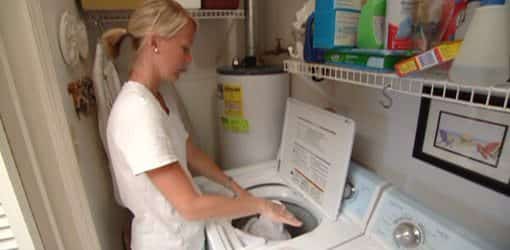 Don't run the dishwasher, clothes washer/dryer, or other appliances during the heat of the day, since these machines generate heat and humidity that can make your home uncomfortable. Put these chores off until evening when possible.
When cleaning clothes:
Wash clothes in cold water.
Run the washer or dryer only if you have a full load.
Choose the shortest wash cycle that gets the job done.
Clean dryer vent pipe and lint screen regularly to lower drying time.
Dry clothes outside on a clothesline when possible.
9. Use Less Hot Water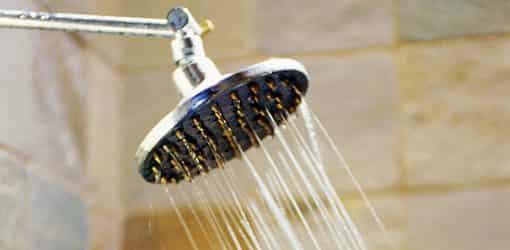 Turn your hot water heater down to a lower temperature setting so it will run less and produce less heat – cooler showers are also just a great way to cool yourself off after a day outside in the sun!
Hot showers create a lot of excess humidity in the house which will trap heat and make your air thick so:
Take shorter showers to reduce humidity and heat.
Take cool – rather than hot – showers.
Run the bathroom exhaust fan when showering or bathing, and keep it running for 20 minutes afterward, to remove excess heat and humidity.
10. Plan Ahead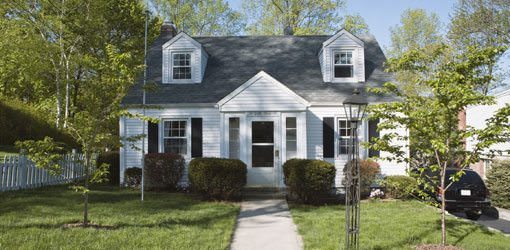 Not every method has to be immediate if you are looking to keep your house cool. There are little things you can do now that will pay off next year and for years to come! Long term strategies to keep your house cooler include:
Plant shade trees on the south and west sides of the house.
Install insulated glass windows with low-E coating or storm windows.
Add awnings over sunny windows.
Install additional attic insulation
Replace existing roof with cool shingles or light-colored roofing
These are only a few of the many strategies for keeping your house cool in the summer. Using even just some of these tips will help you save money on your energy bills and keep your house comfortable and cool during the heat waves we experience every year in Chicago. These were some great tips from our friends at TodaysHomeowner.com!
If you're looking for help repairing or replacing your windows and doors, or are looking for a more energy efficient roofing system, contact A.B. Edward Enterprises today! We've served over 5500+ happy customers in the Chicagoland area
Here are a few more articles we are recommending for you.
Are you in need of a repair or replacement?
Are you a previous client of ours? We would LOVE to hear your feedback!
Read some of our latest reviews online: