Re-siding with fiber cement is the smartest investment you can make in your house. Even smarter: Choosing fiber cement from the industry leader. That's why those in the know choose James Hardie® siding and trim.
COST VS. VALUE RANKINGS
Remodeling Magazine annually compares the average cost for 35 popular remodeling projects with the value those projects retain at resale in 101 U.S. cities. Year after year, siding replacement with fiber cement like James Hardie offers the maximum ROI at resale.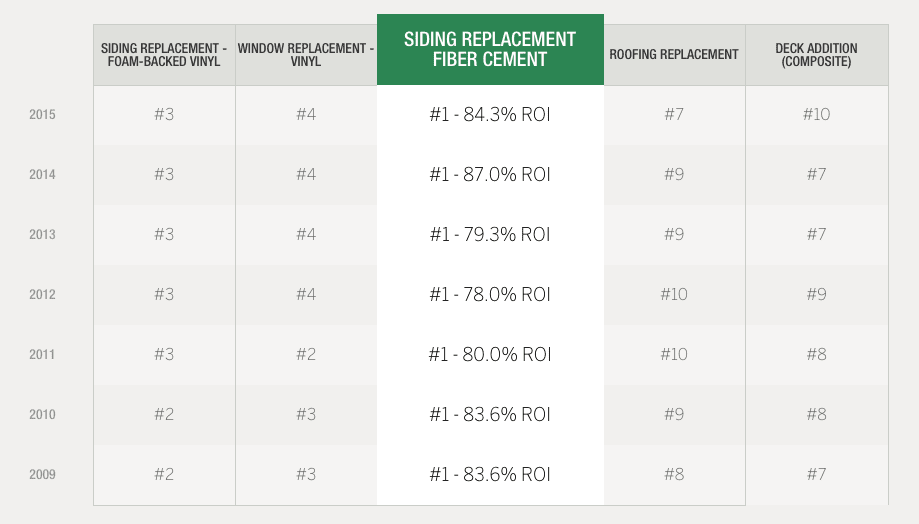 THE BENEFITS OF JAMES HARDIE SIDING
The return on re-siding your house with fiber cement is 25 percent higher than that if you were to add a bathroom. Why not start with a project that will give you more bang for your buck?
Re-siding your home with fiber cement nets you an 11 percent greater return than vinyl window replacement and a 24 percent greater return than a major kitchen remodel or roof replacement.
You want to ensure you're buying the best possible product when you choose to re-side. James Hardie invented fiber cement and remains the leader in the field. Here's what you'll get when you invest in James Hardie siding and trim.
Here are a few more articles we are recommending for you.
Are you in need of a repair or replacement?
Are you a previous client of ours? We would LOVE to hear your feedback!
Read some of our latest reviews online: