Top-notch Chicago Slate Roofing Services
If you're considering a natural slate roof, you'll find that you're choosing one of the most elegant and durable roof materials. To ensure that slate tiles, which are weighty, are installed safely and securely, you will need to hire a top-notch Chicago slate roofing services provider company.
Our company has been installing, repairing and maintaining upscale natural slate roofs for fourteen years now. We know how to perform perfect installations which bring out the beauty of slate. Slate roofing is all-natural and its protective qualities (fireproof, weather-resistant, etc.) are truly impressive. A good slate roof which is installed by our experts may last for up to a century and a half. This is why you should choose us, rather than settling for a slate roof installation company with less experience, acumen and dedication.
Natural Slate: Why Is Proper Installation So Important?
Chicago slate roofing services are not all created equal. If you don't choose a world-class company for slate roof installation, you may be sorry later. The secret of slate's longevity is superb installation by experts. If your slate roof isn't installed correctly, it may trigger serious roof issues. Since you're paying a fair bit for slate tiles, which cost more than many other types of roofing tiles, it's not smart to choose an installation company that doesn't have a proven track record.
A lot of other companies which offer this service don't really have a lot of experience with it. These companies figure that their technicians will figure things out as they go along. This type of haphazard service is the last thing that you need. We already know everything about roofing with slate tiles. We know how to anchor them effectively and we know how to repair them and maintain them.
We've done 4 thousand jobs in the region since we opened for business in 2003 and we've installed lots of slate roof tiles during that time frame. We love the look and durability of slate. It looks as great years later as it does the day it's installed and it also keeps out bad weather. In addition, it won't catch fire.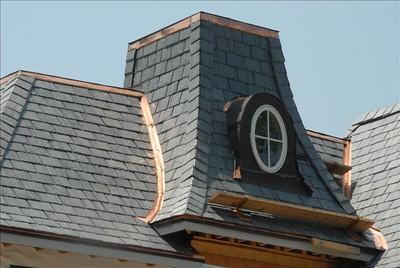 Please Get In Touch Today
If you contact us today, we'll arrange a free estimate for you. This type of installation is detailed and requires special skill. However, we never, ever overcharge our clients. We know that discerning homeowners value the beauty and quality of slate. We have had a A+BBB Rating since 2003. Over 4700+ homeowners served.
We do, too, and we know how to create stunning slate roofs which are safe and secure.
Here are a few more articles we are recommending for you.
Are you in need of a repair or replacement?
Are you a previous client of ours? We would LOVE to hear your feedback!
Read some of our latest reviews online: