If you want to add the beauty of natural cedar wood to your home, with a mind to boosting its curb appeal and resale value, then you'll benefit from discovering our services. Now, we'd like to talk about why cedar shakes are so popular with our customers…and why you should place your trust in our company!
Cedar Shakes are a Classic Choice
We've been taking care of Chicago cedar shake roofing installation tasks since 2003. As you can see, we have tons of experience, so we're definitely cedar shake experts. We know everything about this type of roofing material.
Did you know that cedar may be preserved in order to extend its lifespan? It's the only type of roofing material which may be preserved in order to last longer. Naturally, we know exactly how to preserve cedar shakes. They are quite durable anyway and actually last for ten years longer than other types of roofing material.
When you make the smart decision to invest in cedar, you'll access wood that looks rustic and appealing. Cedar is durable enough to stand the test of time!
As well, this type of roofing material has the highest "r value". R value measures insulating power! This means that cedar shakes will insulate up to four times better than comparable roofing materials, such as asphalt.
One of the great advantages of choosing this material is that you'll get the natural, upscale look that you want, without the higher price tag of other natural roofing materials, such as stone and clay.
Lastly, when you select cedar shakes, you'll find that they provide excellent resistance to hail and wind.
Why Choose Our Company?
To date, we've worked on four thousand homes in the Chicagoland area. We've been in business for years and our company continues to succeed because we put painstaking attention to detail into our work! Also, we offer caring, polite and professional service. We have an unblemished A+ BBB rating since 2003. Over 4700+ homes served since 2003.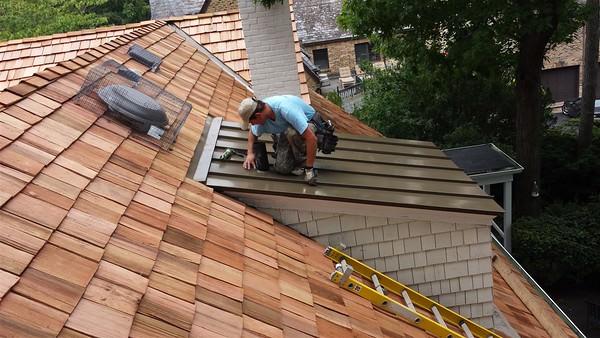 You deserve a roof with character. Your home is your biggest investment. You should love the way that it looks. Cedar shakes offer more than beauty. However, they are certainly attractive and admiring your new cedar shake roof is bound to provide you with a lot of pleasure.
If you'd like to talk about your roofing needs, we hope that you'll contact us today. We are standing by to offer support, advice and a free estimate.
Here are a few more articles we are recommending for you.
Are you in need of a repair or replacement?
Are you a previous client of ours? We would LOVE to hear your feedback!
Read some of our latest reviews online: