Cedar Roofing Installation Company – 5 Benefits of Cedar Roofing
Whether you're hoping to build the best home for you and your family, or if you're seeking to restore or renovate your old property to bring out a brand new look and feel, there are lots of benefits that you can get from using cedar roofing as your roofing material of choice. This particular roofing has become popular among many homeowners and contractors because of its appearance and durability, earning it a reputation as the ideal material if you're looking for value for your money.See below for the Benefits of Cedar Roofing!
Cedar Roofing will dramatically add curb appeal, strength and value to your home.
Want to learn more about the benefits of using cedar roofing for your building project? Here's a list of the top benefits of cedar roofing to help you make the right decision.
1.) Appearance – This is commonly one of the most important criteria that a roofing material has to meet in order to satisfy the standards of homeowners and contractors. Solid cedar wood roofing can be very aesthetically pleasing, especially when combined with the right siding materials and paints. Although some might think this a secondary reason to invest in cedar, it pays to keep in mind that a good looking property is almost always worth more when it comes to resale value.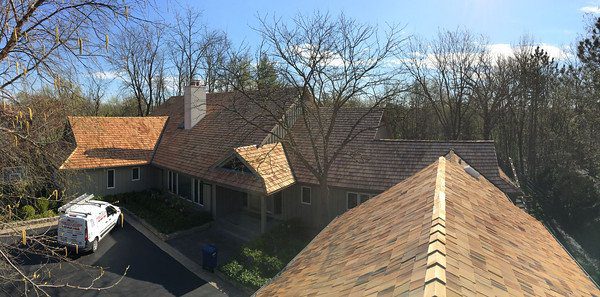 2.) Strength – Not all woods are created equal, and among the different varieties of wood, cedar proves to be one of the strongest. This makes it the ideal wood material to use on roofs as it can withstand significant trauma, damage, and exposure to the elements compared to other wood varieties. Although cedar wood isn't completely immune to potential damages however, it can be coated with a range of different finishes to increase its resistance against fire and fungus.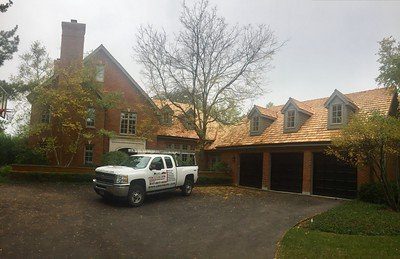 3.) Insulation – Homeowners spend thousands of dollars every year just to keep their interiors at optimal temperature conditions, but with cedar roofing, you might just be able to say goodbye to the need to spend on expensive HVACs. Cedar wood is known as a natural insulator, keeping indoor temperatures cool and comfortable no matter the situation outside. This means you can cut back on electricity costs and use air conditioning units much less with a high quality cedar roof.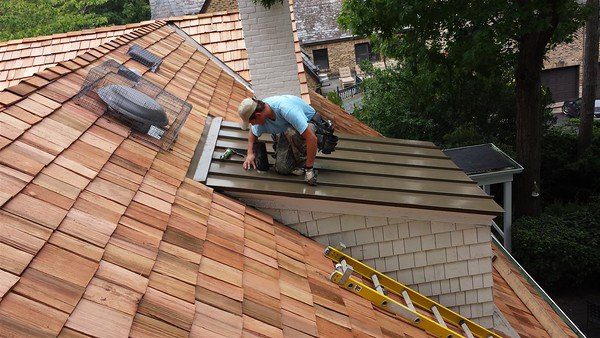 4.) Stability – Lots of roofing materials can shift, expand, contract, and change dimensions with prolonged exposure to sunlight and rain. While cedar roofing is no exception, it's significantly more resistant to these changes which means you can save up on maintenance and repair costs.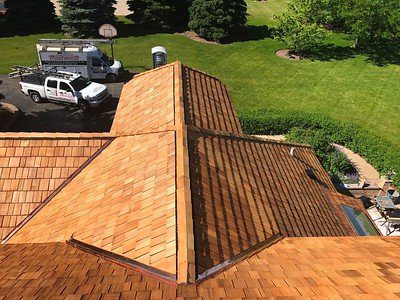 5.)Longevity – A high quality cedar shake roofing will last anywhere between 30 to 40 years, depending on how it's maintained and what it's exposed to. By taking care of your cedar roofing, you can be sure that you won't need a repair or replacement up to half a century after it's installed, making it a very smart and worthy investment for those seeking a material that they can keep for many years to come.
If you are interested in a FREE Cedar Shake Roofing Estimate contact us for more information! (847) 827-1605
Here are a few more articles we are recommending for you.
Are you in need of a repair or replacement?
Are you a previous client of ours? We would LOVE to hear your feedback!
Read some of our latest reviews online: