2019 Roofing Materials and Cost
It's been said we owe our families three things: a roof over their head, food to eat and love. But, only a roof will shelter us from life's storms. So, as we plan ahead for the inevitable winds, rains, snows and elements-of-nature—which beset us all—let's wisely consider the residential and commercial roofing options available to us. Today, while the weather is congenial, let's look at the best roofing protection for our homes and businesses.
A simple google search reveals that a new residential roof in 2019 will cost between $20,000 and $50,000 (and more depending on the city). New roof pricing steers many folks to pursue a roof repair or a roof replacement with identical shingles—options ranging from $500 to $10,000. But here's the thing: price doesn't always equal perfection. Let's face it, depending on which roofing company you employ, you'll be paying more or less for factors that have nothing to do with the roof.
Chicago roofing contractor and exterior specialist's, A.B. Edward, reminded me that consumers must take into account their roofing contractor's expertise, which means, hiring the most expensive roofing company doesn't guarantee you're getting the best materials, installation, aesthetic and longevity. In fact, if you don't know what questions to ask your roofing contractors about their processes, you might end up paying way too much for way too little.
We'll get into the nitty gritty in just a bit, but needless to say, a great resource beyond this article is www.abedward.com/blog for in-depth articles and tips to ensure you're informed as you choose the best roofing company in Chicago—or any city where you live—to trust with your roofing, siding, gutters, windows, doors, stonework and exterior residential and commercial projects.
But don't worry, you've come to the right place because—while the sun is still shining—we'll teach you how to avoid the "roofing contractors near me (RCNM)" syndrome. Like throwing a dart with a blindfold on and hoping to hit the bullseye, many people trust google search results blindly. Instead, we'll show you what to look for as you choose the best roofing company for your project.
In part 1, you'll learn the ins-and-outs of slate roofing, asphalt roofing, cedar roofing, and metal roofing. In part 2, you'll learn the roofing materials pros and cons of tile roofing, synthetic roofing, architectural roofing, and flat roofing. Along the way, we'll look at a few nuances and category distinctions as well. And by the time we're finished, you won't suffer from RCNM syndrome; instead, you'll know exactly what you want out of your roofers, and who to call.
First things first, many kinds of roofing materials have "shakes" and "shingles." Mike Guertin, a writer and remodeler from East Greenwich, Rhode Island says, "While many people use the terms interchangeably, shingles and shakes are not the same. The Cedar Shake & Shingle Bureau description [says that generally] a shingle is sawn on both sides and is thinner at the butt than a shake." But a shake is typically sawn (and somewhat flattened) on one side then split on the other (face up) side and fatter at the butt.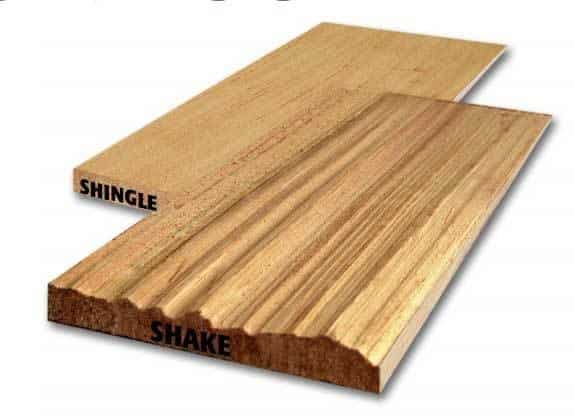 I've used a cedar shake vs. a cedar shingle picture above, but the shingles vs. shakes distinction can be made differently for several specific roofing materials, and there are other distinctions as well. For now, we'll stay focused on the main task at hand—choosing the best roofing material for your house. Alright, let's get started by looking at some classic roofing material choices.
Nationwide insurance lists 9 different types of roofing materials, but there are many more. It is true that not long ago there were limited options, but the roofing industry has expanded rapidly over the last two decades. And though we'll cover every category over the next several weeks, we'll start with four popular roofing options.
Pros: Natural Slate Roofs are old-school-castle-cool roofs that have rocked the globe for centuries. Yes, they often look best atop classic stonework structures, and beyond their elite allure is an even more powerful seduction called longevity. That's right, natural slate roofing requires very little or no maintenance costs in perpetuity. Ever seen a castle in Europe? Same roof from centuries ago. Why? Because natural slate is waterproof, non-combustible, and will not retain snow or ice. Here's an excellent short video showing how natural slate is lifted from river beds and manufactured for your home or business. This stuff is beautiful and it is durable for life.
Cons: What could possibly be the downside of a natural slate roof? Well my friend, you must live like a King, and some of us cannot afford an installation cost of $1,500 per square—a 10×10 foot measurement of your home's overall square footage. To put this in perspective, the great majority of houses in America have a standard 3-tab asphalt shingle roof that costs $200 per square. Yeah, natural slate roofs aren't easily accessible to everyone, but they do rock (pun intended).
Bottom Line: if you want to stay dry for a LONG time and look like royalty, this material is your go-to.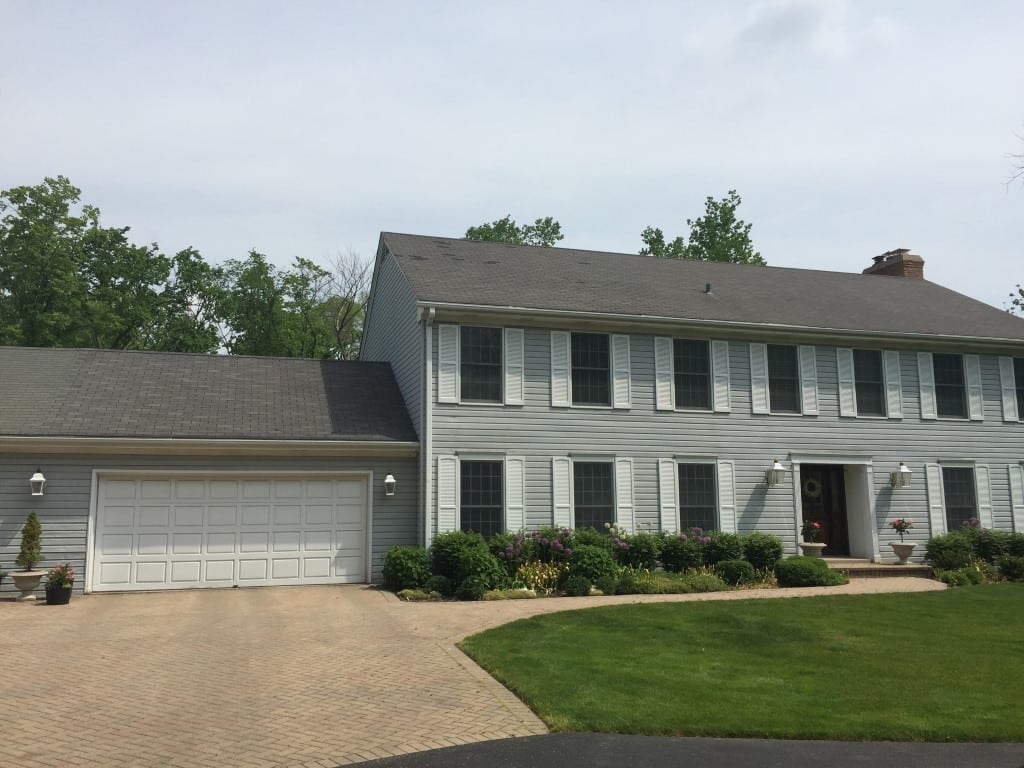 Pros: By far, the most popular roofing in America is asphalt roofing. And lest you think 3-tab shingle is second-rate, think again. Asphalt roofing has many different grades and corresponding price points. The better the grade, the higher the price and life expectancy. At an average cost of $200 per square a 3-tab asphalt roof will shield you for 15-20 years. Not bad for the price, and depending on the roofing contractors who install it, asphalt roofing looks boss. The reason so many people dig it though isn't just affordability, but also because asphalt manufacturers can tailor your shingles to look like cedar shakes, tile, wood or even slate. Yeah, I said it, you can spend less and still mimic the look of something expensive. Not bad. Plus, it's lightweight and easy to repair.
Cons: So, what's the downside of asphalt roofing? Lightweight makes for light work when really bad weather rolls through. Now keep in mind, I'm not talking about your typical rainstorm or snow, but should a hailstorm or tempest of the tornadic mid-west roll through, damage is done easily. What's that? You say you've got insurance so who cares, 'cause you'll get a new roof? Not likely. Depending on your insurance company, repair is more likely than replace, and even if you're able to "replace" your roof, if you don't know 'the second layer of roofing rule', you may end up with a "new" roof that's simply placed on top of the old one. Yep, that's considered acceptable practice by many roofers, so make sure you clarify if that's not what you want. Mosby Building Arts says it like this, "there's no benefit to covering up old problems, and they will most likely affect the durability of the new roof." So, just because it's legal for any "roofing company near me" to cut labor costs by adding a second layer of asphalt shingles—rather than stripping the original layer first—it isn't good practice or best for your home. And always make sure you understand why your roofing company has given you the lowest price before you settle for price alone.
Bottom Line: When it comes to asphalt roof replacement not all quotes are equal, and though you think you're getting a steal now, you may be getting a constant drip later. Make sure you ask the roofing company giving you a quote whether they will be stripping the original layer before applying your new roof.
Pros: Cedar roofing sets your house apart instantly. Known for its colors, tones and texture, Cedar roofing is a durable alternative to asphalt shingles—and lasts significantly longer usually up to 35 years and sometimes beyond 50 years. The two most common types are red and white cedar, which both change color over time, but do so beautifully only adding personality to your home throughout the years. Red cedar is easily the more vivid of the two but both cedars are soaked in stabilizers which magnify the texture of their grains and waterproof each wood shingle before it is in installed. Though white cedar does not always radiate the same rich color as red cedar, both are more durable and provide excellent insulation and relatively simple repair should a storm blow through. Oh, and don't forget the bio-degradable low-carbon footprint of cedar, which is very desirable, especially for the environmentally conscious.
Cons: The downsides of cedar roofs are mostly debatable. No one argues their utility and beauty, but the cost is difficult for some to swallow. Depending on which cedar you use, your project will start at between $6,500 and $10,000 per 1,000 square feet. The less expensive price usually assumes white cedar whereas red cedar is the more expensive and can even go beyond the higher average. Though some homeowners say they never have to maintenance their cedar, more likely they are unaware of the necessity of cleaning and treating the cedar with preservatives every 2 to 5 years. This retreatment actually extends the lifespan of your roof, and though we are speaking of 'cons,' some say this is a benefit of cedar roofs because cedar is the only roofing material which can be nurtured to increase effectiveness over time without replacement. You'll have to decide which side of the debate you find more convincing, but one unarguable downside is cedar roofs are more flammable. In fact, some insurance companies balk at coverage for homes unless they are specially treated with flame retardants, and regardless, the coverage is more expensive because in the instance of a fire, the likelihood is the cedar roof would be destroyed. That said, again some see this as a positive since in the event of a fire, the roof would be completely replaced rather than repaired.
Bottom Line: Cedar roofs are gorgeous and have many upsides like longevity. If you understand the nuances of your investment, and you're a glass-half-full-kind-of-person, don't hesitate to enjoy your new roof and be the envy of your neighborhood. See some beautiful examples here.
Pros: When properly manufactured and installed, corrugated galvanized steel roofs are the Superman of Residential and Commercial Roofing. Yes, I said it. Metal roofing is for men (and women) of steel who want their homes and businesses to bear up under the four elements and withstand the whimsical tests of mother nature. More and more metal roofs are engineered, as if for a galactic storm. Architects have fallen in love with the load bearing prowess of metal's like steel, and as a result, more and more structural designs include metal roofs that are strong and subtly elastic—even if a meteor should strike. Where residential roofing is concerned, location often determines demand. Floridians and other coastal states, accustomed to hurricane season, increasingly choose a metal roof to withstand the battering of yearly winds.
Colder states with heavy snowfall may also experience higher demand for metal roofs for residents because the weight of many months of snow is made an afterthought to homeowners. Equally impressive and innate to metal roofing is fire resistant properties which make metal roofs the least likely roofs to catch fire. And if that weren't enough, metal roofs last a long time too, with some estimates of up to 80 years—depending on the chosen metal.
Oh, one more thing: metal roofing can be installed VERY quickly, cutting down on costs for the new homebuyer or business owner and minimizing anticipated maintenance costs for the foreseeable future. Metal roofs are more likely for commercial roofing projects because of their durability, utility, longevity, speed of installation, and ease of maintenance which sure sounds Super to me.
Cons: So, what could possibly be this option's kryptonite? You guessed it, style. Though metal roofing has advanced—and certainly there are designers for residential roofing that can outfit your home with a stylish modern look—most residential roofs just look, well, like the Clark Kent of roofing. Yep, metal roofs for homeowners are more rare cause they can look awkward and out of place.
Also, metal roofs—if unthoughtful installed—can be EXTREMELY loud. Every acorn that falls, every quiet rain, every squirrel that scratches and cat-on-a-hot-tin-roof can be heard throughout the house. Metal is a powerful conductor of sound and without proper installation and insulation, you'll forget to pay attention to acoustics—and every minor storm may sound like a tsunami. In other words, as nice as it may be to feel completely safe amidst the elements, you'll definitely hear about them. But let's say for argument sake the sound is mitigated by great acoustic installation, what else could be a downside? Depending on your attention to detail it could be cost.
Though there are some roofing contractors who will install metal roofing for $150 to $300 per square, this may be a more lightweight material and the more likely average for custom sheet metal is between $450 – $600 per square. And even though you may reason that you'll make this up over time because of your "set-it-and-forget-it" assurances, metal roofs are still very susceptible to cosmetic blemishes like dents, wear, peeling of paint, and scratches.
If a metal roof is installed incorrectly, leaks are a perpetual hassle. You see, if metal roofs have screws attach through the flat surface instead of the raised ridges, you'll get rain water and snow seeping into your screw holes and then need someone to get back up on your roof to seal around every screw head with custom protective washes.
Bottom Line: Metal roofs can be Super for residential homes in specific geographical locations especially when installed correctly, and they're always a great fit for commercial buildings, but be wise about your acoustics and make sure to get the best roofing contractor for your new roof by asking nerdy Clark Kent questions that ensure your roof is installed by custom sheet metal experts with careful attention to detail.
Okay, like I said from jump, you have now begun to learn what to think about when you're making decisions about the best roofing material for your residential or commercial roofing project. But if you think we're done, think again… we're just getting started. You see, RCNM syndrome may no longer be a threat, but you need to know about four other roofing materials pertinent to your project before you pick up the phone and interview your roofing contractor. That's right, I said interview, because now you're "in-the-know" about how to get the best roofers for your roofing project in Chicagoland or anywhere in the country. And though we're coming up for air to review (see infographic below), we're just getting started in this comprehensive overview of the best roofing material pros and cons for 2019.
In part 2, we'll dive into four more roofing materials with unique distinctions. As you consider the best roofing material for your home or commercial project remember: the roofing materials we'll cover are only generic headings but their intricasies reveal important nuances to their pricing, longevity, maintenance and style. Let's take a look at tile roofing, synthetic roofing, architectural roofing and flat roofing.
Pros: Tile roofs are a classic look that stand the test of time and withstands the test of most weather assaults. Whether your tile is Beverly Hills 90210-style tile or a more common flat profile (see below), tile roofs are typically heavy in weight and exhibit a weather resistant strength and density that can last up to 100 years. Whether the tile is interlocking, flat, curved or s-shaped, tile roofs are easily maintenanced and replaced by the tile or by the section. In general this means that you may spend more up front, but you'll have your roof taken care of for many years to come.
Depending on your aesthetic preferences (i.e. clay or concrete), there are plenty of options style-wise to ensure you'll want to give this roofing material consideration for your new roof. Those who choose flat tiles often do so because they are least likely to be pulled-up during a major storm wind, but medium and high profile tiles incorporate small or larger curves to add scenic texture that never goes out of style. The versatility of tile is also a huge benefit because it can be glazed or unglazed, flat or lifted, a wide variety of colors and capable of mimicking your preferred look—even mirroring the non-clay/non-concrete material like wood shakes for use on rustic or log homes.
Cons: Keeping in mind the long-term savings, tile roofing can be expensive upfront. Tile roofing prices range from $700-$800 per square to install and sometimes closer to $1,000 if you're using expert roofers (which I recommend).
Why? I'm glad you asked, and it all comes down to installation. You see, tile roofing is prone to crack under human weight, thus roofers typically utilize a plywood bridge walking surface to distribute their weight while installing the roof. This can help avoid additional breakage when doing repairs but it does make things dicey when you're dealing with pitched roof slopes. In fact, tile roofs are suitable only for roofs with relatively sharp slopes i.e. pitches less than 4:12. Long story short, installing a tile roof is highly difficult and specialized work, and you'll benefit from every detail sweated by your roofing company but it costs extra.
Bottom Line: As long as you have an expert installer who does a structural analysis on your roof trusses to make sure that they can support the weight of clay or concrete roof tiles, tile roofing is a phenomenal choice of roofing material for long-term value, low maintenance, and aesthetic beauty. And even if your roofing company needs to reinforce the roof framing before you start your project, it's well worth your while.
Clay Pros: Terracotta roofs have been around as long as dirt itself. No seriously. The word 'terracotta' has an Italian root that means baked-earth and was the only type of ceramic tile produced by Western and pre-Columbian people until the 14th century. Clay has literally been used since time began for sculpture, pottery and for bricks and roof shingles. Does that make it better than other roofing materials? Nah, it's just 'the original' roofing tile and that means it is also has loads of built-in advantages because it is well-known by roofers and a very effective roofing material. In comparison to concrete tiles, terracotta has better water absorption properties, is less likely to stain and lose color, and is actually more durable as well. The resale value of clay tiled homes is typically greater as well, which makes clay tiles an "all-I-do-is-win" option.
Clay Cons: Okay, maybe not all-I-do-is-win… every material takes an 'L' at one time or another, so what's the knock on clay tiles? Clay is very brittle and very difficult to walk on while installing, unless you know just where to place your foot (hint: where the overlap of the two tiles is the strongest). So yes, it's more difficult to install than even concrete tiles and if there's an non-typical maintenance—because of a tree falling and breaking tiles or some other freak accident—well then, yes, clay can be a hassle to repair or replace.
Bottom Line: Clay Tile is pretty darn amazeballs, but you've got to understand a few small nuances about installation so you don't freak out about the cost. Actually, the cost makes a ton-of-sense when you consider the savings over the long haul and the longevity of your roof will only be eclipsed by it's classic look and 'dry-as-a-california-summer' water absorption properties and time-tested overhead protection.
Concrete Pros: Concrete tiles can be used in any climate. Not only is concrete more readily repairable than clay, it is also less likely to need repair. Styles include mission, rounded and flat and every concrete tile roof lasts a long time, sometimes up to 50 years. As long as your underpinning is capable of carrying the extra weight, tile roofing can be a 'wow' in aesthetic beauty and durability as well.
Plus, your concrete tile roof is fireproof and easy to maintain; which means, you can enjoy your curb appeal for as long as you own your home and you'll probably save some money on home insurance as well. If you're concerned whether your structure can hold the weight of concrete, simply have a roofing audit done or ask your roofer if they would suggest a lightweight roof tile which are mixed with expanded shale rather than sand. Oh, did I mention that concrete tiles are 30-50% less expensive than clay tiles?
Concrete Cons: Less expensive than clay, more durable to install… what could possibly be the downside of concrete tiles? Well, for one, concrete tiles are more porous than clay tiles. Concrete tiles do not absorb water as readily as clay tiles, and may stain more easily.
Yes, you will pay less for the material but concrete tiles are still heavy and labor intensive. High quality nails and screws are necessary to secure the tiles which may mean higher prices for copper or stainless steel and thus the installation price is comparable to clay tile installation.
Color match (or lack thereof) may also come into play with concrete tiles. Typically, this isn't a problem at the outset but as time and weather wear-on, matching a tile may be difficult because the concrete tiles may age differently. This isn't to mention the underlayment of the roof which may go bad every 8-20 years if you're in wetter climates. Though your concrete tiles can last forever, you may need to replace your underlayment to keep your tiles from absorbing too much water and cracking or the underlayment allowing leaks.
Bottom Line: Concrete Tile Roofing is a little cheaper than clay roofing and increasingly more durable during installation. There are lots of different ways to make concrete tile look and all of them are stylish and last for up to 50 years. Make sure your underlayment is replaced in tandem with your installation and you'll stay dry, stylish and happy for many years to come.
Pros: Synthetic Roofs can be manufactured for every style. Whether you want to mimic a natural slate roof (above), or any other steep-slope roofing material like asphalt, tile, metal, or cedar, synthetic roofs can replicate almost any style. Synthetic roofs typically contain recycled plastic and/or rubber as a key ingredient and as a result, are Class-A fire-resistant and carry the highest class rating for impact resistance.
Plus, synthetic roofs never aid and abet bugs, pests, and fungus' like natural surfaces do, so you'll never fear critters creating holes in your new roof. If you're wondering, yes, some people genuinely prefer synthetic roofs "even-better-than-the-real-thing" (insert Bono here), and most-of-the-time synthetic roofs are less expensive than their natural counterparts.
Cons: Synthetic isn't always appreciated because of it's connotation as artificial. Though some natural materials deteriorate faster and lose their perceived luster, synthetic carries an unnecessary knock for being less environmentally friendly.
Here's the thing, lots of synthetics are already recycled, so the converse argument is equally true because your new roof has been repurposed and spruced up to look amazing; and, truth-be-told synthetic roofs last as long as other roofing materials and are less likely to wear or fade like all-natural materials. What's the biggest downside?
They're still relatively new in the roofing industry and so far we simply don't know as much about how they perform over the longterm. Some folks say they can see the "imitation" roofing material when they get up close, but others actually like the smoothness and cleanness of the hybrid look.
Bottom Line: As you consider roofing material keep in mind your personal preference. Synthetic roofing is an excellent and cost-effective choice for your new roof, and the real question is do you like the way it looks? After all, synthetic roofs are malleable to whatever style you like, and if you're not OCD about the up-close differences, you'll stay warm and safe under a durable and effective new roofing surface.
Pros: Architectural roofing is an increasingly popular upgrade from traditional 3-tab shingles, also known as asphalt roofing. So, what's the difference? Let's try an analogy: your wife might describe architectural roofing as the date-night version of your hair because, like an asphalt roof, you always look presentable for work and comb your hair, but on date-night she adds a little extra gel, maybe even a subtle spike or tussle, and suddenly—like an architectural roof—you are coiffed. Asphalt roofs have been the standard for several decades, and are still a safe 'go-to' for quality roofing; but, increasingly architectural roofing is preferred by new owners because it can be made to look more nuanced. Both styles of asphalt-based roofing are excellent choices, but a major distinction of architectural roofing is its thickness in comparison to 3-tab shingles. Accordingly, architectural roofing is more durable, rated for higher wind speeds, and often raises the perceived (and actual) value of your home.
Cons: Why does there always have to be a downside? Oh yeah, 'Roofing Materials Pros and Cons 2019 [Part 2]' (insert face-palm-emoji). Okay, so the main knock against architectural roofing is… it's more expensive than 3-tab asphalt shingle roofs? Wait, is that a knock? Truthfully, it's hard to say because architectural roofing also lasts longer. Where 3-tab roofing often comes with a 15-20 year warranty, and occasionally a 25 year warrnaty for thicker grades, architectural roofing comes with a minimum 30-year warranty, so of course you'll pay between 20%-40% more. Woah, 40% more? Yeah, but remember that the value of your home increases too? So, technically you're paying more for… more. More style, more durability, more longevity and more value short and long-term. If you're just really digging, you could possibly say the weight of an architectural roof could be a detriment because the thicker shingles are 50% heavier than 3-tab, but these shingles still won't be nearly as heavy as most slates and tiles so just make sure you're structure is sound before you install (but, you already know to do this before installing any roofing material)
Bottom Line: In Chicago, and many major cities and suburbs, architectural roofing is growing to some 70% of the market over the past half-decade, and there's a great reason: because homeowners are aware of the multiple benefits. Always make sure you're getting a structural assessment from an expert roofer, and enjoy your new architectural roof as much as everyone else will admire it in your neighborhood.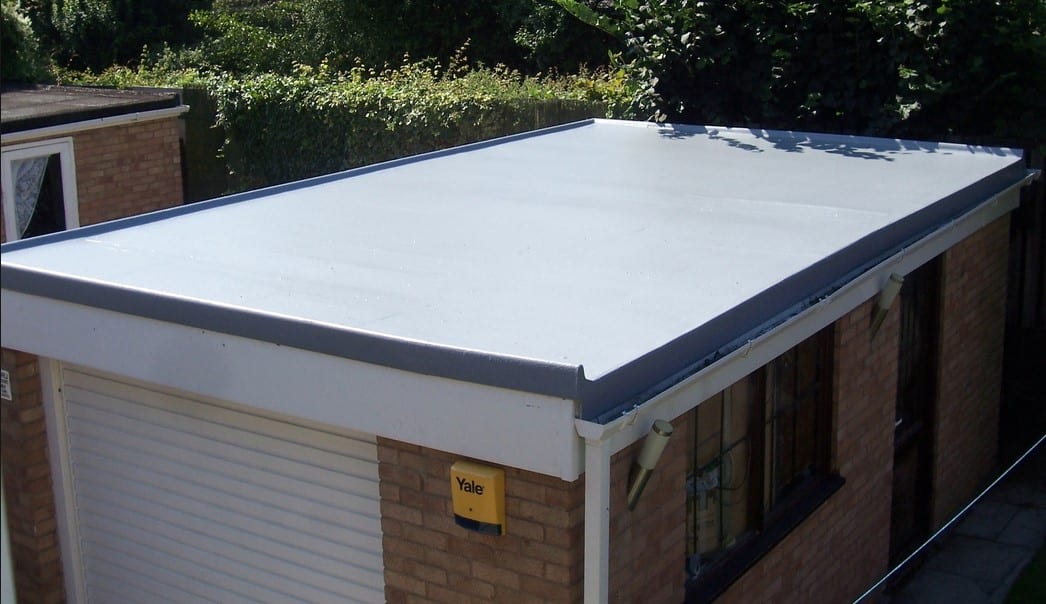 Pros: Flat roof systems are often made of PVC, TPO, EPDM rubber and some other materials—each with their own distinct pros and cons (to be covered in another article). That said, the flatness of a flat roof is the decided benefit we'll consider exclusively here. You see, almost every other roofing material we've explored thus far assumes some pitch or slope to the roof, and would otherwise allow a leak in a flat roof because these materials rely on angles to cascade water and the elements off of the roof and into the gutter or ground. Actually, flat roofs are less renowned for their promise of dryness than they are for the space they create within the structure. Just think, if your roof has steep angles, your attic or upstairs also has oddly shaped space, but with a flat roof the upper floors can still be spacious and open. Also, a structurally sound flat roof invites the luxury of a tower-like-view atop the home or business' roof, where the rooftop deck or patio offers the sounds and sights of nature and the ambiance of your neighborhood or city to enjoy privately or socially. Roofers may disagree whether flat roofs are easier or harder to install, but owners agree that flat roofs are less expensive—between $3-$11 per square foot—to have installed because their roofing specialist's insurance is less expensive on a flat surface which does not require rafters, engineered trusses, and as many specialized roofing tools that may be necessary for a more sloped roof. Plus, flat roofs are extremely useful to businesses who like their larger outdoor HVAC systems to be stationed out-of-sight rather than clumsily at ground-level where foot-traffic and eye-sores can make an aesthetic bulkiness otherwise.
Cons: There's a big critique of flat roofs, and an obvious reason they are less likely to be a part of residential roofing materials. Why's that you ask? Because they don't hold up against the elements as well, and leaks are often an issue. Though flat roofs are not typically completely horizontal, their flatness makes them breeding grounds for pools of water and eventual wear and tear. For that reason, flat roofs typically have a shorter lifespan and are not as durable as roofing materials for sloped roofs. How long does a flat roof last? Depending on the material our best guess is between 7-20 years. The range is accurate because extreme weather conditions—though occurring less often—can have a more profound negative impact on flat roofs in one short burst. As a result, maintenance on flat roofs is also more important—if only to continuously remove any standing water—after ongoing rain showers and snow.
Bottom Line: Flat roofs don't last as long as a typical sloped roof, and will need more active maintenance because they will eventually leak after significant wear and tear—either by time or sudden extreme weather. That said, their inexpensive installation and repair is attractive and who doesn't like a great rooftop party?
How

to

Pay

for

a

New

Roof

: Financing and Loan Options

Here is a great list that compares roof financing options for homeowners including paying with insurance, home equity loans, roofing company financing, and more!

Speaking of a party, it's been a blast covering the 'Roofing Materials Pros and Cons 2019,' but the truth is we've only just begun scratching-the-surface of the many roofing material possibilities available to you when you repair or choose your new roof.

The underlying wisdom within each roofing material is ultimately to choose the best roofer for your new roof installation. Whether it is assessing your residential or commercial roof for structural integrity, getting you a quote for your insurance company and roof repair, or simply choosing the perfect roof for your new home, it's essential to choose an exterior specialist and expert roofing contractor with the highest level of service and character.

I'll leave it to you to do your research, but if you'd like a suggestion for the best roofing contractor in Chicagoland, don't hesitate to contact www.abedward.com i.e. exterior specialist's A.B. Edward Enterprises. They've always got helpful roofing insight free-of-charge on their blog and they're expert roofers for every roofing material installation.
Here are a few more articles we are recommending for you.
Are you in need of a repair or replacement?
Are you a previous client of ours? We would LOVE to hear your feedback!
Read some of our latest reviews online: