Balcony Windows That Create Natural Light and are Energy Efficient!
You may be questioning what are balcony windows? Basically, these are special home windows that act both as a veranda and a window. As a result, they are likewise called balcony roof windows. These kinds of home windows change a regular roofing system home window into a veranda in seconds. Balcony Windows are all about creating natural light in your home for benefits such as fresh air and energy-efficiency! Check out our other popular FAKRO products.
Advantages of Balcony Windows
An extremely cost effective way of installing a balcony.
The balcony window will flood your home with daylight.
Adds value to your home, as well the "wow factor"
FAKRO Balcony Windows
An innovative, large roof window that opens into a balcony. The upper sash opens upwards while the lower sash opens forward to create a balcony bay. The window stays open anywhere along the 0 ​​to 45​ ​​​degree opening range.
The window is operated by the handle located at the bottom of the upper sash which has a two-point locking mechanism.
Automatic air inlet V40P adjusts the air pressure in the room to compliment the air pressure outdoors for maximum performance and stability.
Both the upper and lower sash are equipped with​ ​laminated​ glazing unit P2.
The highest quality pine wood, vacuum impregnated.
​​Double-coated wood with ecological acrylic lacquer​, ​finished in a natural​ ​wood color.
Increased resistance to burglary – TopSafe system.
A wide range of accessories available.
Installation range is 35 to 55 degrees.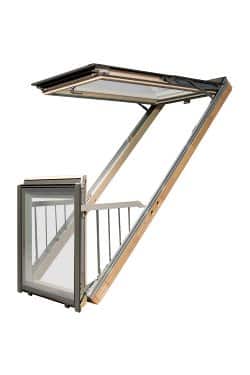 If you are interested in our full line of FAKRO Balcony windows, contact us today for a FREE Estimate!
Here are a few more articles we are recommending for you.
Are you in need of a repair or replacement?
Are you a previous client of ours? We would LOVE to hear your feedback!
Read some of our latest reviews online: