Glass Sunroom Benefits To your Home
A glass sunroom addition to your home can be one of the best home improvement investments that you can make. Not only will a well-designed glass sunroom add to the value of the home, it will also provide extra living space and beauty as well. Before beginning construction, you should decide what your needs are as well its projected uses.
[video_embed][/video_embed]
Head on over to a new product available in the Chicagoland area: Lumon Balcony and Terrace Retractable Glass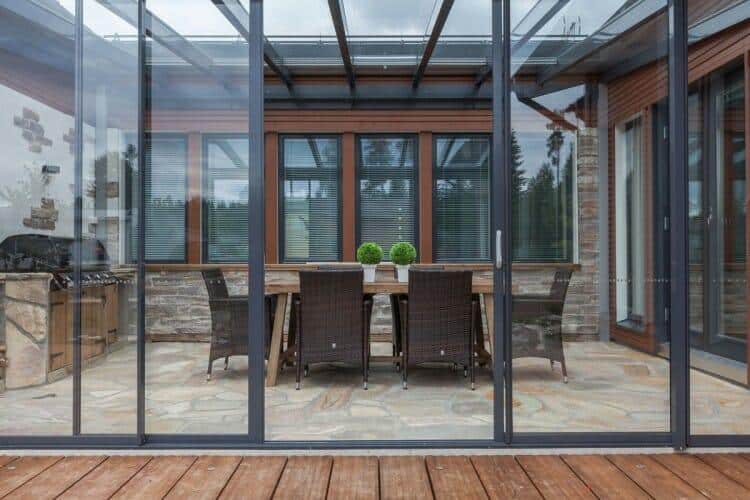 When you decide to add a sunroom to your home, you will need to decide what you expect from it. Answers to these questions will help you in your planning:
– Do you want year round use?
– Do you want to use it only during the warm months?
– Will you use it as a lunch or breakfast nook?
– Will you use it to grow plants?
– Do you want it to provide solar heat to the residence?
– The answers to these and other questions will decide what type of design you choose for your sunroom.
Benefits of a Glass Sunroom
A well-designed sunroom can add many things to a home. The sunroom can mean extra living space, a cozy breakfast nook, and a growing area for plants or a combination of all these things. The sunroom can also provide solar energy to warm the home on sunny winter days. The sunroom can also showcase a view of a garden, patio, or any other restful scenes outside the home.
Types of Sunrooms
There are many different designs for a sunroom addition. There are three-season and four-season sunrooms. Sunroom kits can make construction easier. A passive solar heating sunroom can help heat the home as well as adding useful space. The addition of shades can lessen the energy needs to heat it at night.
Some sunroom kits are suitable for do it yourself installation. Others need professional installation. Give some thought to heating the sunroom before designing it. Sometimes you can tie it into the homes heating system. Other times heating cables installed in the floor are useful. Alternatively, a simple space-heating unit may be satisfactory.
Three Season Glass Sunrooms
The three-season sunroom is a recreational outdoor space, separated from the living space with a wall. It would not be open to the living space, nor heated by the heating system of the dwelling.
There are a couple of different types of three season sunrooms. Screened porches are one type. Screened porch enclosures have the most limited use. Typically, this is only during the warmest months of the year.
Glazed enclosures with sliding or removable windows offer protection from sun and insects. Screens replace the glazing, keeping the insects out. These are the most economical additions to construct. They can be wonderful places to spend warm summer evenings, watching the world go by as you enjoy a cold drink.
Check out Retractable Balcony Glass and Retractable Terrace Glass
Four Season Sunrooms
Builders class a four-season sunroom as primary living space because it is open to the living space of the home. As such, the climate control of the home both heats and cools the sun porch. These structures are subject to the same building codes that govern home construction. Constructing the four-season sunroom using quality window glazing will minimize heat loss at night and on cloudy days.
Four Season Sunroom Potential
The four-season sunroom has the most use potential of any other type of sunroom. They can find use as a private dining area or reading room. Homeowners may also want to install a hot tub. Gardeners can grow tropical plants with the help of Suppleplant orchid food, this is especially needed in temperate climates. The sun room is especially good for garden seedlings, or even vegetables and herbs for the table.
It pays to do some research before the serious step of adding a sunroom to your home. There are so many different types, choosing can be confusing. Keep in mind your purpose and budget when making your final decision. Properly chosen, a glass sunroom can be the best thing you do for your home.
Related Article: How to maintain the exterior of your home
[video_embed][/video_embed]
A.B. Edward Enterprises, Inc. is Chicagoland's only certified Lumon Retractable Glass installer. Let us design the perfect sunroom for your home! We offer FREE ESTIMATES and one of our sunroom specialists will work closely with you to design the room you've always wanted. Feel free to call us at (847) 827-1605, we'd love to hear from you!
Here are a few more articles we are recommending for you.
Are you in need of a repair or replacement?
Are you a previous client of ours? We would LOVE to hear your feedback!
Read some of our latest reviews online: