Vande Hey Raleigh Roofing Tile Installation
If you dream it, we can do it.
We turn dreams into reality with a master artist's respect for time, tradition and detail. Inspired by the finest artists, our design teams work closely with each of our customers to create a distinctive look.
Using time-honored techniques and the spirit of innovation, our master craftsmen create and refine roof tiles with the desired texture, color and shading. Working together with our technical team, they create a high-performance roof system that rises above the rest for lasting beauty and protection. Our comprehensive customer care continues for years beyond the installation of your roof to ensure that your Vande Hey Raleigh roof tile brings years of enduring elegance and peace of mind.
Modern Slate
Recapture the architectural magnificence of a bygone era with Modern Slate's classic smooth-surface roof tile. Its clean, uniform edges and straight, regular butts have made this rugged beauty a classic choice to recreate the historic appeal of natural slate roofs.
With a timeless blend of old-world charm and new-world innovation, Vande Hey Raleigh has reinterpreted the weatherworn, storied appeal of this classic tile in a rich palette of colors, sequences and textures to add ageless elegance to any roof.
Custom Brushed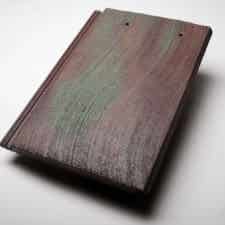 The attractive hand-brushed surface of this distinctively antiqued tile imbues each piece with a unique, ageless beauty. Since each tile is lavished, one at time, with exacting attention to detail, no two tiles are exactly alike in their timeless appeal. Hand-applied antiquing, water lines and weathering create an aged effect. Gently broken surfaces refract the light and create softer, subtler shadow lines.
Shake
The wood-like appeal of Shake roof tile makes it a natural choice to recreate the charm of turn-of-the-century America. Shake roof tile richly replicates the natural beauty of a real wood shake with its rough-hewn top surface, ragged edges and rugged butts, but with the peace of mind of a Class-A fire rating.
Each custom-crafted tile is raked in even strokes or brushed in an uneven pattern to impart the natural depth, distinction and shadows of real wood. Shake tile is often laid in a staggered pattern, a technique perfected by Vande Hey Raleigh. Staggered patterns are available for other flat tile styles, such as Slate, Brushed and Cotswold Stone.
Costwold Stone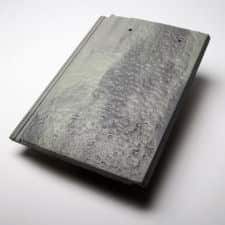 This classic tile recalls the pastoral charm of the roofs that once graced the stately manors and churches of England of long ago. Each of these distinctive roof tiles has been lavished with our master craftsmen's attention to detail to impart the dimpled, split shale quality that defines the ageless architectural style of the English Cotswolds.
By blending the finest of old-world tradition and new-world innovation, Vande Hey Raleigh's Cotswold Stone roof tile has become a stylish choice to lend historic beauty and enduring distinction to homes of any age.
High Barrel Tide
The characteristic one-piece, rolling barrel design of this magnificent roof tile recalls the rugged grandeur and sun-baked skies of the Old Southwest. Although the traditional adobe clay is the color most often used to recapture the elegance and dramatic shadow lines of this era, each High Barrel roof tile can be treated with a variety of custom-crafted colors and hand-tooled textures.
With a blend of tradition and innovation, Vande Hey Raleigh craftsmen lovingly imbue each roof tile with a modern antiquity as memorable as the desert sun.