SNAP-CLAD Panel Metal Roofing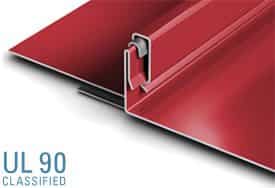 SNAP-CLAD metal panels feature architectural roofing panel aesthetics as well as structural metal panel performance. SNAP-CLAD panels, produced in continuous lengths, are corrective leveled to provide superior flatness and feature an optional factory-applied sealant bead for improved weather resistance.
Maximum panel length is 64 feet and minimum panel length is 4 feet. SNAP-CLAD roofing panels feature a 1-3/4" leg height and a continuous interlock for improved structural performance and wind resistance. A concealed fastener clip system allows for thermal expansion/contraction while providing extraordinary hold-down strength. Two clips are available: a standard clip for most mansard and fascia applications and a high-performance clip for roofing application and UL 90 rated assemblies.
[nggallery id=105]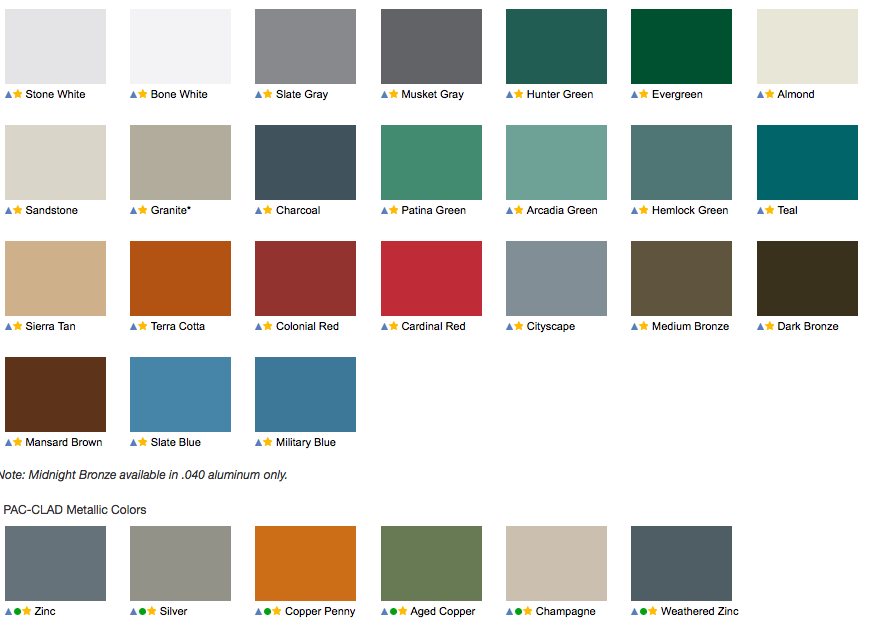 Product Features
– 20 year non-prorated finish warranty
– Architectural/structural roofing panel
– Herr-Voss corrective leveled
– Factory applied sealant available
– Continuous interlock
– Stiffener beads available
– Striations available
– Factory eave notching available
– Labor-saving one-piece design
– Maximum panel length of 64 feet – Check with local factory for longer lengths
– Weathertightness Warranty available
Trim
All flashing and trim will be fabricated by manufacturer or qualified fabricator. Flashing shall be PAC-CLAD aluminum (.032-.063 gauge as specified) or PAC-CLAD steel (24 ga. or 22 ga. as specified). A 20-year, non-prorated finish warranty can be supplied covering metal finish performance. Vinyl masking is recommended on all fabrication applications where extra handling is expected. NOTE: The Strippable film must be removed immediately after installation.
Installation
SNAP-CLAD panels are intended for use in roofing, mansard, and fascia applications. Substrates may include 5/8" (min.) plywood, nailboard insulation or equal with an underlayment of ice and water shield or 30# (min.) roofing felt applied horizontally from eave to ridge. Other substrates may include metal decking, purlins or rigid insulation in conjunction with bearing plates. A minimum 2:12 pitch is recommended in most applications. Contact Petersen for detail assistance on projects requiring lower slopes. For coastal applications, aluminum panels along with stainless steel metal clips must be used for warranty. Consult a local architect/engineer for compliance with local codes and conditions.
Eave Notching
Factory-produced eave notching is available at nominal additional cost on SNAP-CLAD Panels and Redi-Roof Standing Seam Panels. Factory eave notching saves on labor cost by eliminating the need for field cutting to produce a properly trimmed eave detail.