Chicago slate roof repair really has to be done properly!
Slate roofing is a heavy, rugged material. It's definitely not the cheapest roof material, because it is so beautiful and durable. As well, it's natural and it's prized for its sleek grey surface, although it comes in other colors, too. A.B. Edward is your official Slate Roof Repair company.
People are willing to pay more per square foot for slate roof tiles because they are stunning choices from a visual perspective. These tiles look rich, traditional and elegant. They add cachet to homes. As well, people who choose slate know that they are unlikely to ever need roof replacement again. Slate roofs which are installed with painstaking attention to detail, by true professionals (and then maintained to perfection) are likely to last well over a century!
If you want a slate roof repair which adds value to your home and protects you and yours from fire (slate tiles are completely fireproof), you should know that choosing the right Chicago slate roof repair company will be very important. You need to look for years of experience.
Luckily, you need look no further, as we've been installing and repairing slate roofs for Chicagoland residents since 2003.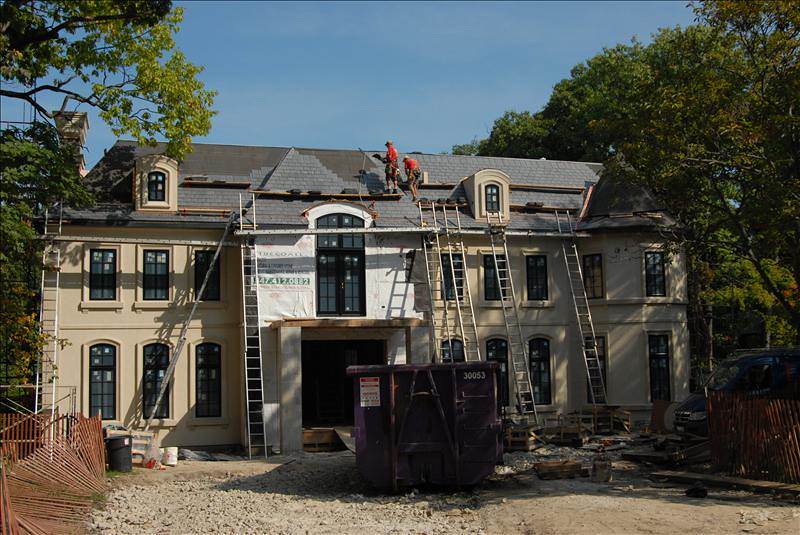 We Know How to Install Slate Roofs
We're used to working with this weighty natural material. We are slate tile roof experts! When you choose our company today, you'll be choosing a company with a great business reputation. Our Better Business Bureau rating is A+. We're proud of this rating, as we've done more than four thousand jobs in the region!
We know that our commitment to superb workmanship is the reason why our rating stays perfect over the years. As well, we know that our caring customer service contributes to our ideal rating! We value the business of our clients and we help them to access slate roofs that are timeless in terms of beauty.
We secure slate tiles so that they are as safe and protective as can be. When repairs are needed, we find replacement tiles which are a perfect match. We maintain the sleek and seamless look and make sure that roof tiles stay firmly in place. We're able to do all types of slate tile repairs. There's no problem that our team of trained and certified techs can't handle!
Please Get In Touch Today
Don't settle for a less-experienced company. Slate requires special care and handling and we know exactly what to do with this elegant roof material. When you choose us, we'll also be pleased to offer you a free estimate. Our realistic estimate will take the guesswork out of arranging for slate roof repair or installation.
Here are a few more articles we are recommending for you.
Are you in need of a repair or replacement?
Are you a previous client of ours? We would LOVE to hear your feedback!
Read some of our latest reviews online: