Ludowici Roof Tile – Roof Tile Installation. Limitless is the best way to describe Ludowici's selection.
With dozens of current standard profiles, historical styles spanning Ludowici's 120-year history and the capability to create or match custom designs, nearly any shape imaginable can grace your roof. Add in Ludowici's full spectrum of colors and finishing techniques, along with an extensive line of accessories, and the result is truly a vision without compromise.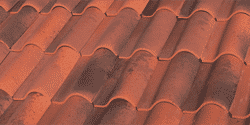 One of the most popular tile in Ludowici's product line, Spanish tile is prized for its simple, one-piece barrel design which provides a pattern of distinctive ripples across the roof. Often synonymous with clay roof tile, Spanish tile enhances virtually any style of architecture from small bungalows to large public institutions.
Uneven lengths, a rough textured surface and severely chipped butts reflecting the feel of old masonry give Ludowici's Antique shingle tile the warmth and character of Old Europe.
Williamsburg 14″ Interlocking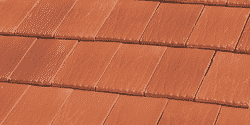 Ludowici's Williamsburg 14″ interlocking tile has a scored sawn wood shake texture and a square butt giving the same texture and character of wood shakes. However Williamsburg 14″tiles has a permanent non-fading finish and won't rot, warp, curl or burn like wood shakes.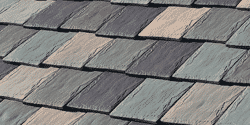 LudoSlate interlocking tile has the texture and varied thickness of natural hand split slate and can be laid staggered for a more rustic look. The tile have a ceramic finish that comes in 11 standard colors as well as custom colors or blends and is warranted for 75 years in all climates. LudoSlate Premier version has random widths. Unlike rubber or plastic slates, LudoSlate has 120 years of proven technology behind it, is Class A fire resistant and will never curl or fade. LudoSlate is lightweight, easy to install, maintenance free and has fewer pieces per square than the alternative.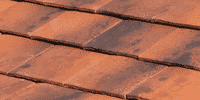 A standard Shingle tile installation has a triple tile lap at the headlap to prevent water from penetrating the joints. The innovative TileTec system substitutes a high tech polymer interlayment that allows for an installation with a double lap at the headlap. This reduces the pieces and weight per square by approximately 37%.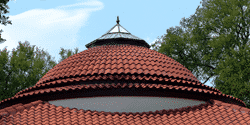 Ludowici specializes in designing and producing custom tile to fit on variety of non-standard shaped roofs, such as cones, domes, asps, and more. Artisan craftsmanship, state-of-the-art 3D modeling and over a century of experience combine to create a roof that is truly one of a kind.
Ludowici is widely acknowledged as the industry expert in colored (glazed) clay roof tile. With over 40 designer colors and unmatched custom color capabilities, only Ludowici can offer a virtually unlimited palette. In addition, Ludowici colors are not painted on the surface but fired in under extreme temperature to ensure they retain their original tones and hues for many years to come. Color is included in our limited 75-year warranty.