2020's Best Options for Beautiful and Eco Friendly Window Upgrades
When it comes to windows, you'd be forgiven for thinking that form and function just don't mix. But it's possible for a window to be both beautiful and energy efficient. We've scoured the web and our own home improvement knowledge database to find the best of the best, so here are our top picks for beautiful and eco friendly window upgrades for your home.
Wooden frames
Rustic and Scandinavian interior design styles are still going strong, so it's no surprise that wooden window frames are at the top of our list this year. Wood is not the most high-tech material available in the home building market, but its use over centuries cements its status as a firm favorite for both building and decorating a home.
As far as windows are concerned, frames made entirely from wood are aesthetically pleasing, durable, and budget-friendly. If you choose a frame made from FSC-certified wood, you can guarantee that the materials used are sustainable and therefore eco friendly. Marvin's Ultimate Double Hung window ticks all these boxes for us: made from pine, fir, or mahogany, this classic design has lots of visual appeal while including all of the latest energy efficient window properties as well.
Skylights and bespoke window designs
When traditional window installation is not possible, many homeowners resign themselves to making do with awkward window spacing and dark rooms. However, bespoke window designs and skylights can offer the perfect solution for smaller and uniquely shaped spaces because they find creative ways to brighten up a room without resorting to increased electricity usage.
When installing new windows in your home, quality and craftsmanship are key. Installing windows in places where there previously weren't any is a big job, so this kind of upgrade usually works best during a large scale home remodel or addition, or while building from scratch. Also, with any purchase—and especially if you're opting for skylights—you should always choose trusted, time-proven brands like FAKRO Roof Windows and Skylights in order to ensure you get a product that is watertight and well-insulated.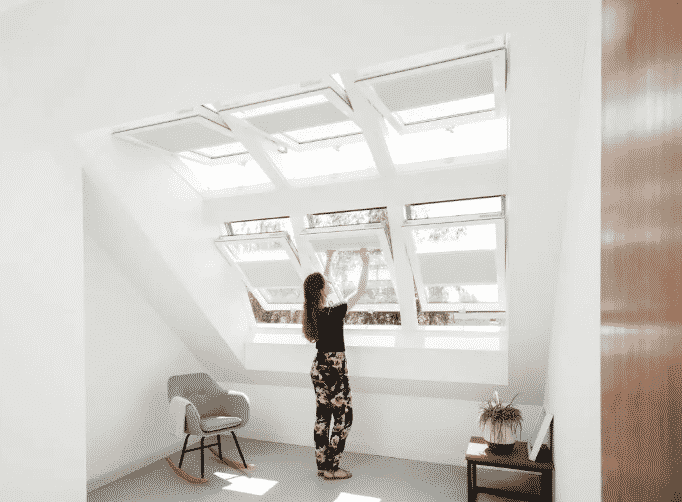 Transitional windows and doors
If, rather than needing tiny and irregularly shaped windows for your home, you want to go big, then the trends are in your favor this year. Huge windows that reach from floor to ceiling and wall to wall windows and glass doors are popular among environmentally conscious homeowners and families who want to open their homes – literally – to the outside world. By bringing the outside in, giant windows can make homes feel lighter, cooler, and more connected to the environment.
Before you ask your local window professional to knock down your dining room wall, there are a few things to take into consideration here. First, this kind of upgrade usually works best in warmer climates because homeowners have more opportunities for indoor/outdoor living throughout the year. Second, regardless of your local climate, it's a good idea to choose Energy Star rated windows that come equipped with energy efficient properties such as low-e coatings and insulating gas.
Other popular window upgrades
While attractive wooden frames and big, bold windows are on many homeowners' minds this year, there are several other eco friendly window upgrade options that shouldn't go unmentioned here.
While windows are made to bring the light in, there are some times when privacy and cover are necessary. Integrated shades and blinds provide a beautiful and functional solution for an otherwise boring window dressing. If technology is what you're looking for, however, smart glass is the latest high tech offering in the window industry that allows glazing to turn from translucent to transparent and back again when voltage or heat is applied to the area.
Although wood is particularly trendy for window frames at the moment, steel is making a case for itself because it is super strong and ultra energy efficient. Steel frames are inconspicuous, can handle heavy and large panes of glass, and work perfectly with double or triple pane windows in order to maximize insulation and soundproofing. I soundproofed my doorway that was framed in metal and the results were good, as expected. If you're considering a transitional wall of windows or folding doors, steel frames are your best bet for durability and strength this year.
Finally, no home renovation article is complete without mentioning interior design. The latest window dressing trends this year highlight drapery and curtains with texture, bold patterns, and deep jewel tones. Curtains provide more than a pretty decorative accent for your home, though: window dressings can help keep the heat in during the winter months and bolster the insulating properties of your windows. Creating the opposite effect is just as easy: simply choose exterior shades and awnings to minimize the amount of UV rays and heat getting into your home during the summer.]
Vinyl Windows that are Energy Efficient and Affordable in Chicago
Welcome to A.B. Edward Enterprises, Inc. We are a family-owned business that is locally owned and operated, we are your window contractor of choice in Chicago. When looking for window upgrades for your home, contact us today for a FREE Estimate. We will send one of our highly trained window specialist to your home to go over all of the options that are available to you. Feel free to call us at (847) 827-1605 if you wish to speak to someone right away.
Here are a few more articles we are recommending for you.
Are you in need of a repair or replacement?
Are you a previous client of ours? We would LOVE to hear your feedback!
Read some of our latest reviews online: