Completed Roof Sealant Job In Glenview
Not every roof needs to be torn off or replaced – particularly if you own a building with a flat roof. Applying a roof sealant can prolong the life of your roof and protect your commercial building or home for a long time.
Depending on the material of your roof, it may be wise to invest in applying a roof sealant. Roof sealants help protect the investment you have made in your roof by preventing damage from the weather, moisture, and UV rays. We recommend using GacoRoof for your flat or sloped roof to extend its life.
More About The Project
A.B. Edwards has recently completed a roof sealant job in Glenview, IL. The building needed a flat roof repair, curb installation, and a GACO Roof coating applied to it. Prior to repairs being made the roof was showing signs of wear and tear, as well as exposure to pooled water which had damaged parts of the roof. If damage sits too long or the roof is allowed to deteriorate over time, then a roof tear-off may be needed.
Re-roofing a flat roofed building can be expensive and time consuming, so it's important that your repair and seal your flat roof when possible. The building in question clearly needed to have roof sealant applied to further extend the life of the roof. Our team went out to Glenview, IL to assess the damage, suggest and carry out repairs, and as a final step applied the recommended two coats of GacoRoof.
What is GacoRoof?
GacoRoof was used as a final step in the repair process to seal the top of the roof in order to protect it from the elements. This product is acceptable for use on both sloped and flat roofs, though our most job was a flat roofed building. GacoRoof is 100% silicone – a tough but flexible material that has water proofing capabilities.
Silicone has been proven to be a more durable roof sealant, outlasting urethane, acrylic, and asphalt in all kinds of weather and exposure to ponding water. Applying GacoRoof will not only protect your roof from water but also harmful UV rays that normally damage and weaken roofing materials over time.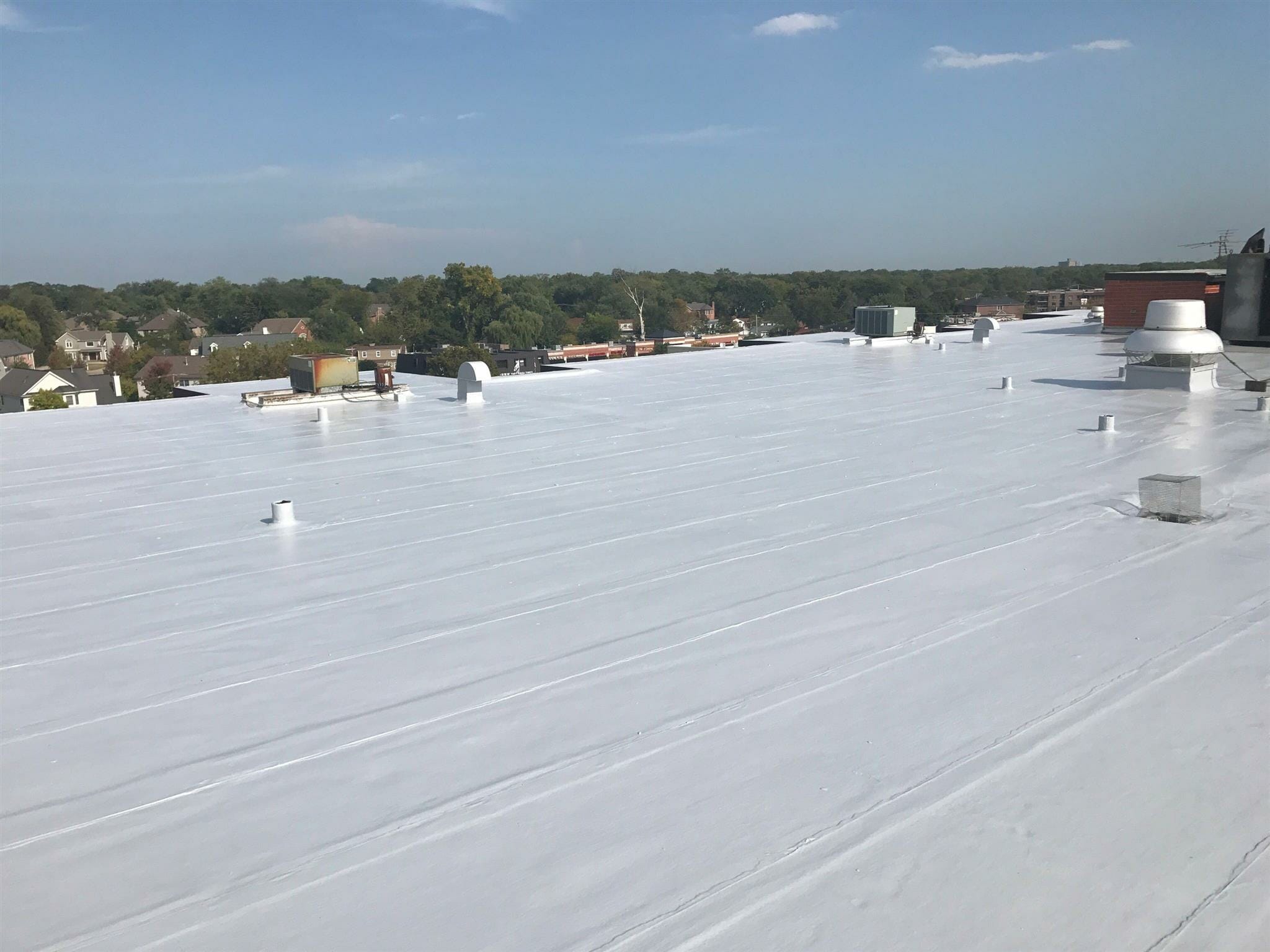 Not only is silicone more durable, but it is also easier to apply than other materials as it requires no primer and will adhere easily to the vast majority of materials. This material is suitable for not only commercial buildings but homes, garages, and even patio covers.
Though the roof sealant for this job was white, other colors are available for application. Its flexibility promises continued protection over time as it does not grow brittle from exposure to snow pack or water. GacoRoof also comes with a 50-year limited material warranty, allowing you peace of mind when it comes to your roof.
Contact A.B. Edward Enterprises Inc.
Prior to applying GacoRoof or any other kind of roof sealant it is imperative you get your roof inspected for damage and conduct repairs. Calling a professional roofing company like A.B. Edward will ensure you are applying a protective coating to a sound and stable roof, rather than trapping in moisture and worsening the damage that is already present. We have served over 5000+ happy customers in the Chicagoland area and are proud to offer our expertise and experience for all jobs big and small.
If you are interested in protecting your flat or sloped roof with this Gaco's silicone roof sealant, or are concerned about signs of wear and tear or damage, please contact us today so we can help.
Here are a few more articles we are recommending for you.
Are you in need of a repair or replacement?
Are you a previous client of ours? We would LOVE to hear your feedback!
Read some of our latest reviews online: