Spray Foam Insulation Contractor Chicago
What is Spray Foam Insulation?
Spray polyurethane foam (SPF) is a spray-applied plastic that can form a continuous insulation and air sealing barrier on walls, roofs, around corners, and on all contoured surfaces. It is made by mixing and reacting unique liquid components at the job site to create foam.
The 7 Benefits to Using Spray Foam
We can help you save money and energy with spray foam insulation in your home, learn about the benefits! Now you can enjoy many benefits like energy efficiency, durability, low maintenance, leak-resistance, wind protection, and a comfortable, draft-free home. A lot of people feel intimidated by the cost and commitment of using spray foam insulation in their houses. Without knowing the benefits that spray foam insulation can provide for their home and family, the option could be easily overlooked. In actuality, spray foam insulation outperforms all other types of insulation by incredible margins.
[button title="Spray Foam Energy Savings Calculator" link="https://www.greenohm.com/CertainTeed/SimpleEnergyCalculator.aspx" target="_parent" color="" size=""]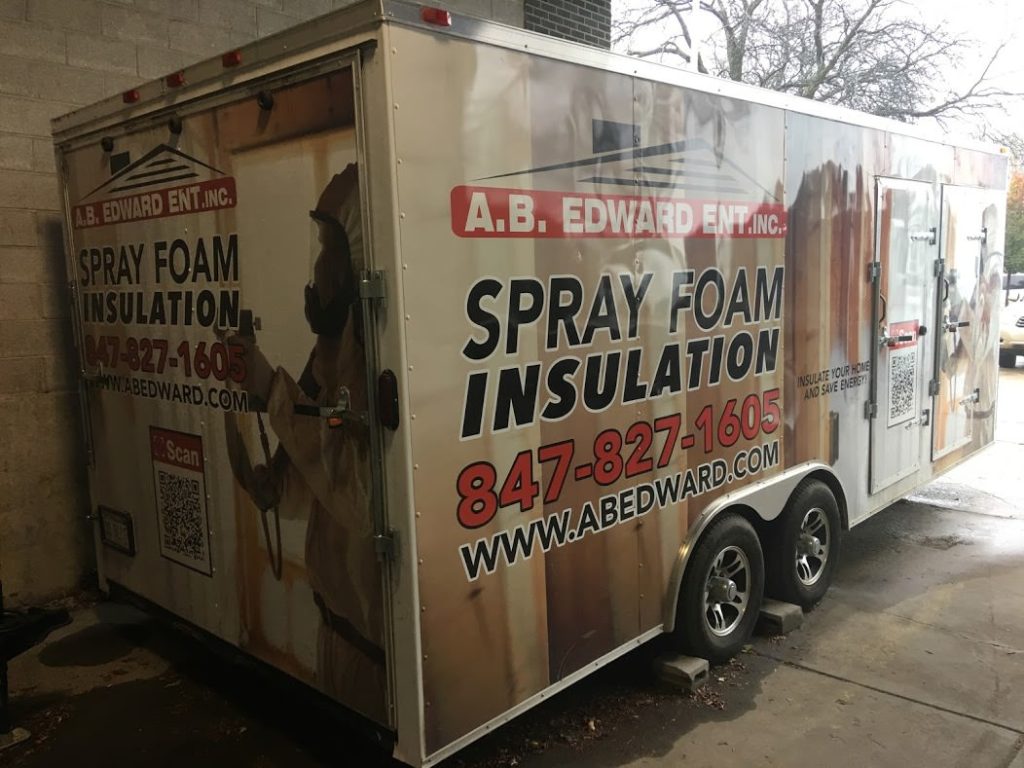 Where To Use Sprayfoam
Spray foam insulation, when properly set up is both an air obstacle and when closed cell foam is used at the appropriate depth, it acts as an amazing vapor barrier! Always be sure to use a highly trained and rated Spray Foam Installer for the best results. 
Creep Space/Basement: Spray foam seals pipes, plumbing, fractures, sills as well as framework.
HVAC: Spray foam insulation maximizes the performance of your cooling and heating system when mounted around the pipelines, condensers, flooring signs up and also ductwork. Decreases in incredibly hot or cool environments can often counter upfront prices of buildings or enhancements with foam.
Exterior makes use of for spray on insulation consist of:
– Where the house siding & foundation fulfill
– Electrical & gas infiltrations
– Wall joints in the garage ceiling
– Around outside faucets and vents
– Stone wall surface repair
– Water feature fillers
– Protecting block walls in the landscape
Choose open-cell or closed-cell spray insulation based on the purpose and placement of the insulation and the recommendation of the insulation contractor.
What is Spray Foam Insulation?
Spray foam insulation is developed from two types of composite materials, polyurethane and isocyanate. When combined, these two materials chemically react to each other and cause their combined substance to expand and harden. During the installation process, both materials are simultaneously sprayed from the tip of a spray foam gun, allowing them to expand and form a protective layer of spray foam insulation over the desired area.
There are two types of spray foam insulation – open-cell and closed-cell. Open-cell spray foam is more dense than closed-cell spray foam insulation, and is spongy to touch. This gives it an effective sound dampening effect. It is less expensive that closed-cell spray foam insulation.
Closed-cell insulation, while more expensive than open-cell, has its own list of amazing benefits.
Benefits of Closed-Cell Spray Foam Insulation
[accordion]
[toggle title="Powerful Insulator" state="closed"]
Spray foam insulation works far better than other popular types of insulation. Because of its expansive nature, spray foam tightly seals all nooks and crannies that otherwise would have been left exposed. Spray foam's resistance value, or its ability to provide an air-tight seal, ranked at R-6, the highest rank on the market today.
[/toggle]
[toggle title="Incredible Energy Savings"]
Because spray foam in such a powerful insulator, families and businesses have actually been able to save a significant amount on their energy expenses. Spray foam insulation has shown to provide energy savings at an average of 50% or more, unlike other types of insulation that average a savings rate of about 30%.
[/toggle]
[toggle title="Air-tight Seal"]
Spray foam insulation is uniquely capable of thoroughly sealing holes and cracks in your attic or crawl space. Air leaks are often one of the biggest reasons for high energy bills. Spray foam insulation creates a powerful airtight seal that has shown to be 24 times less permeable to air infiltration than other types of insulation.
[/toggle]
[toggle title="Moisture Barrier"]
Holes and cracks in your walls and crawl space can allow entrance to more than just air. Water and moisture can gain access to these areas through exposed cracks and holes if not sealed.
[/toggle]
[toggle title="Deters Mold"]
Spray foam is not only water resistant, but it is composed of an inert polymer that provides no source of food for mold or bacteria. Homes that are insulated using closed-cell insulation are better protected against mold and mildew.
[/toggle]
[toggle title="Long Life-Span"]
The inert polymer that spray foam insulation is comprised of allows it to have an indefinite lifespan. This allows homes and businesses to enjoy the benefits of spray foam insulation for years on end before needing to re-insulate. Businesses and families that invest in spray foam insulation can actually save money over the course of 20 years or more because of spray foam's unique ability to perform at optimal levels for extended periods of time.
[/toggle]
[toggle title="Eco-Friendly"]
One of the most common inquiries made about spray foam insulation is if it is eco-friendly. Our answer is yes! There are several reasons for this.
– Spray foam helps reduce energy consumption and create a 'green' household.
– Protects against moisture and mold growth
– Designed to last indefinitely, producing fewer consumed materials
– Outstanding energy efficiency
– Superior comfort and indoor air quality
– Enhanced moisture management
– Added structural integrity
– Excellent sound control
[/toggle]
[/accordion]
[baslider name="SprayFoam"]