When choosing roofing materials, it's crucial to consider the pros and cons carefully since your roof is a vital element in safeguarding your home and loved ones. Avoid selecting a material that provides inadequate protection and demands frequent costly repairs.
Why homeowners prefer asphalt shingles for their roofs?
Choosing a roofing material for your home can be overwhelming with various options like asphalt, cedar, metal, wood shakes, rubber, copper, slate, and tile available. However, asphalt shingles are the most commonly used roofing material. Here are the reasons why many homeowners prefer asphalt roofing.
Asphalt shingles are inexpensive
Asphalt shingles are a top choice for budget-friendly roof replacement. Despite their significantly lower cost compared to other roofing materials, asphalt shingles deliver exceptional durability and a lengthy lifespan. Installation, roof replacement, repairs, and maintenance for asphalt shingles are also more cost-effective.
Replacing your roof always involves a significant financial commitment, and the price difference between the roofing options is substantial. For example a cedar shake roof is considered a premium roofing system, which naturally comes with a premium price tag. Due to this premium pricing, opting for a cedar shake roof will cost considerably more than choosing a dimensional asphalt roof.
If you're working with a limited budget or seeking affordability, asphalt shingles are the more cost-effective choice. To gain a deeper understanding of the factors influencing the cost of your new roof, please don't hesitate to reach out to expert team.
Asphalt shingles versatility
Asphalt shingles can adapt to various angles, shapes, and configurations, making them compatible with nearly any roof type, from cross-hipped to Dutch gable. Regardless of your roof's size or complexity, you can rely on asphalt shingles to provide seamless coverage. While there are slope requirements with a minimum slope for asphalt roofing, the vast majority of homes in North America are well-suited for asphalt shingles.
Diverse design options
Asphalt shingles come in a wide array of architectural styles. Traditional 3-tab shingles complement many home designs, while dimensional and premium shingles offer multiple style choices. Some even replicate the appearance of other roofing materials such as slate and cedar shakes. This enables you to enjoy the aesthetic benefits of these materials without their associated drawbacks.
Asphalt shingles come in an extensive variety of colors, allowing you to choose the perfect roofing shade to maintain or enhance your home's curb appeal, especially if you're preparing to sell your property. This wide array of color options in asphalt shingles sets them apart, as many other roofing materials do not provide such a diverse selection.
Ok, are there any disadvantages of asphalt shingles?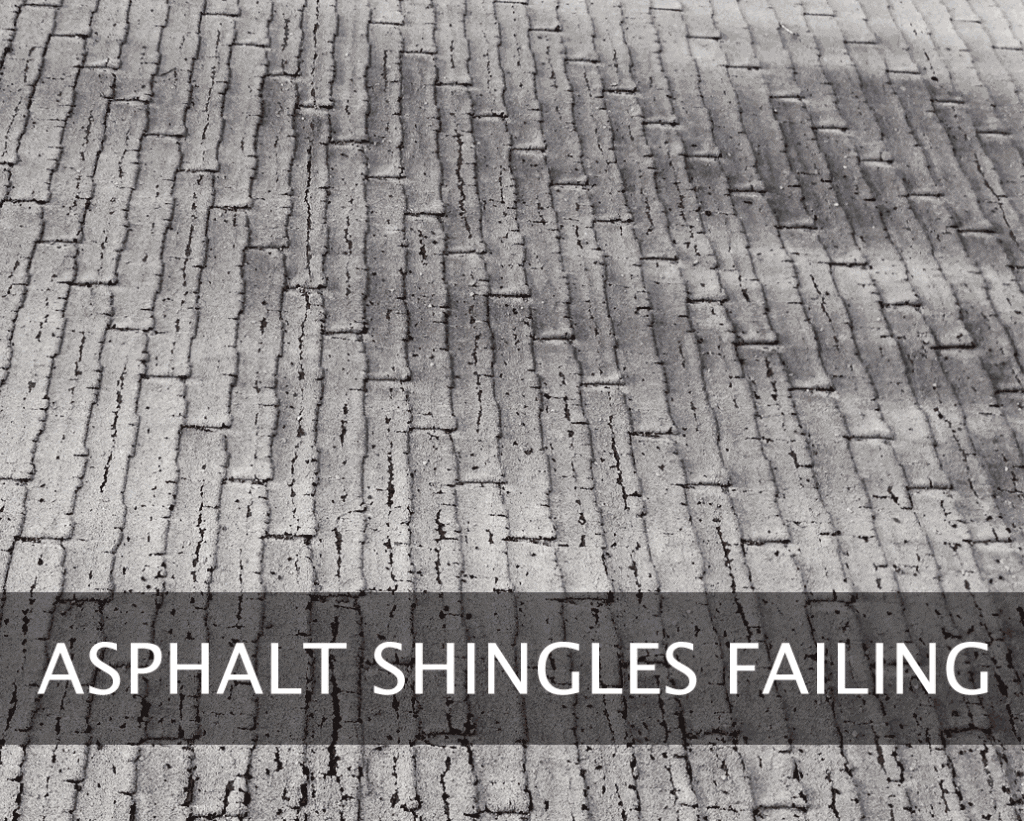 Unfortunately, asphalt shingles are not without flaws. First of all, it is not as durable a solution as composite tiles and slates. If you maintain your roof regularly, it will certainly last for many years, but after 2-3 decades, asphalt will begin to degrade due to UV rays. With other materials, such as metal, you can get up to 50 years. It is necessary to take this aspect into account and consider whether it would not be cheaper to invest in a more expensive, but more long-lasting roof.
Mold
In addition, asphalt shingles increase the risk of mold. If the house is heavily shaded and you know that you will not be able to properly maintain your roof, after a few years you may realize that fungi have already taken over a large part of it. You can counteract this by regularly washing and spraying your roof with special products, but this involves extra effort and a certain amount of time.
Energy efficiency
Asphalt shingles are also not the most energy-efficient option. If you're replacing an old roof with a new one, you'll certainly notice an improvement, but if you're looking to reduce heating costs as much as possible, ask your customer advisor about other materials. Our customers rarely pay attention to this aspect, but you should be aware of the relatively high thermal transmittance of asphalt shingles.
Types of asphalt roofing shingles
The variety of names for different asphalt shingle types can often leave homeowners feeling confused. Is there a distinction between laminate shingles and composition shingles? Each shingle variety boasts its own unique characteristics and advantages. We will help you gain a clearer understanding of your roofing options based on the offer of GAF, our main asphalt shingle vendor.
Traditional shingles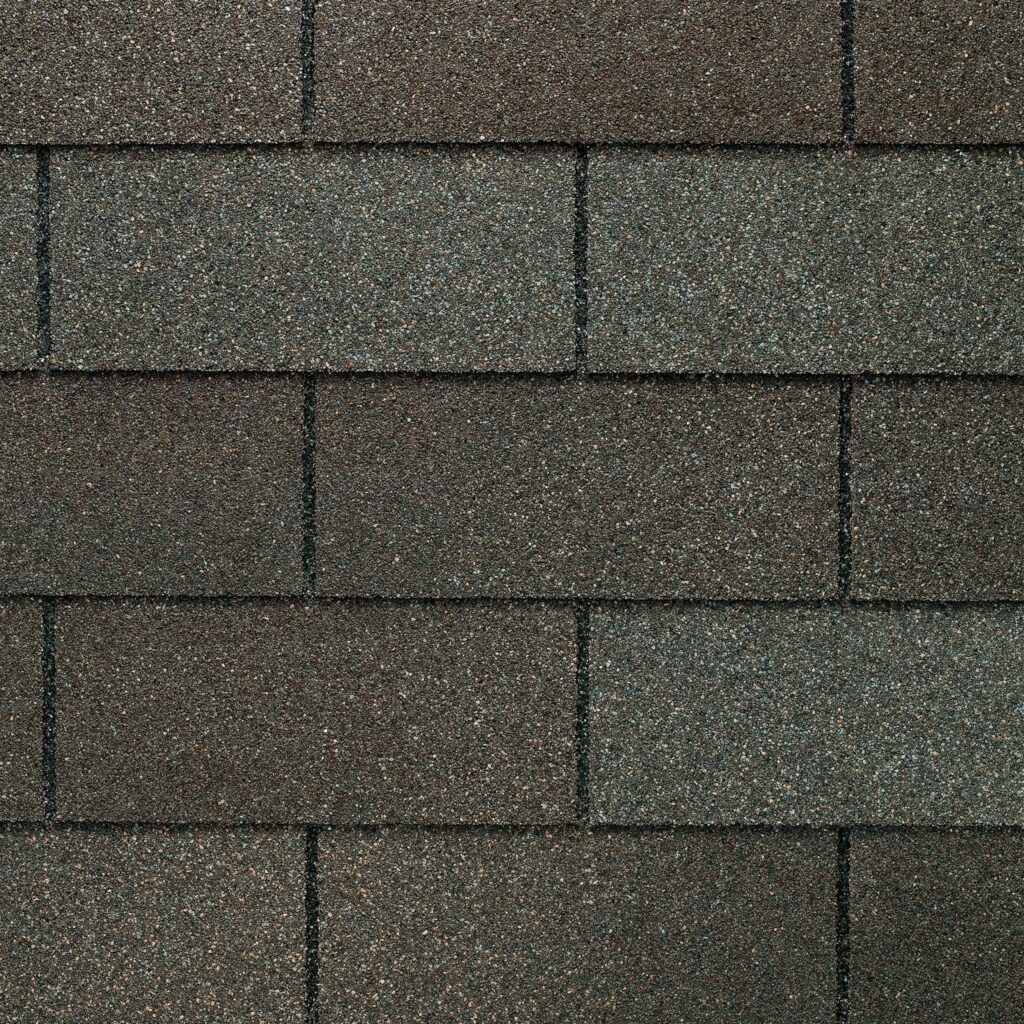 Traditional shingles, also known as 3-tab shingles or strip shingles, represent the oldest type of asphalt shingle still in use today. Over time, they have undergone improvements, including the incorporation of a fiberglass mat instead of a cellulose core. Modern 3-tab roofing shingles are available in larger sizes and can now offer multiple shades, enhancing aesthetics and concealing color variations.
Architectural shingles
Architectural shingles, known as laminate or dimensional shingles consist of two layers, both composed of asphalt and fiberglass, providing added thickness and potential weather resistance benefits. These shingles feature a unique appearance with varying shapes, referred to as "dragon's teeth," and a shadow line created by a band of darker granules.
Premium shingles
Premium shingles, also called designer shingles, share the two-layer composition of architectural shingles but offer additional features to achieve a premium look. Many premium shingles mimic the appearance of traditional roofing materials like cedar shakes and slate tiles.
Performance shingles
Performance shingles encompass various shingle types designed to offer specific performance benefits, such as enhanced wind resistance, hail resistance, solar reflectivity, and algae resistance. Many asphalt shingles also incorporate algae-resistant granules to prevent unsightly blue-green algae growth.
How long does it take to install a new asphalt shingle roof?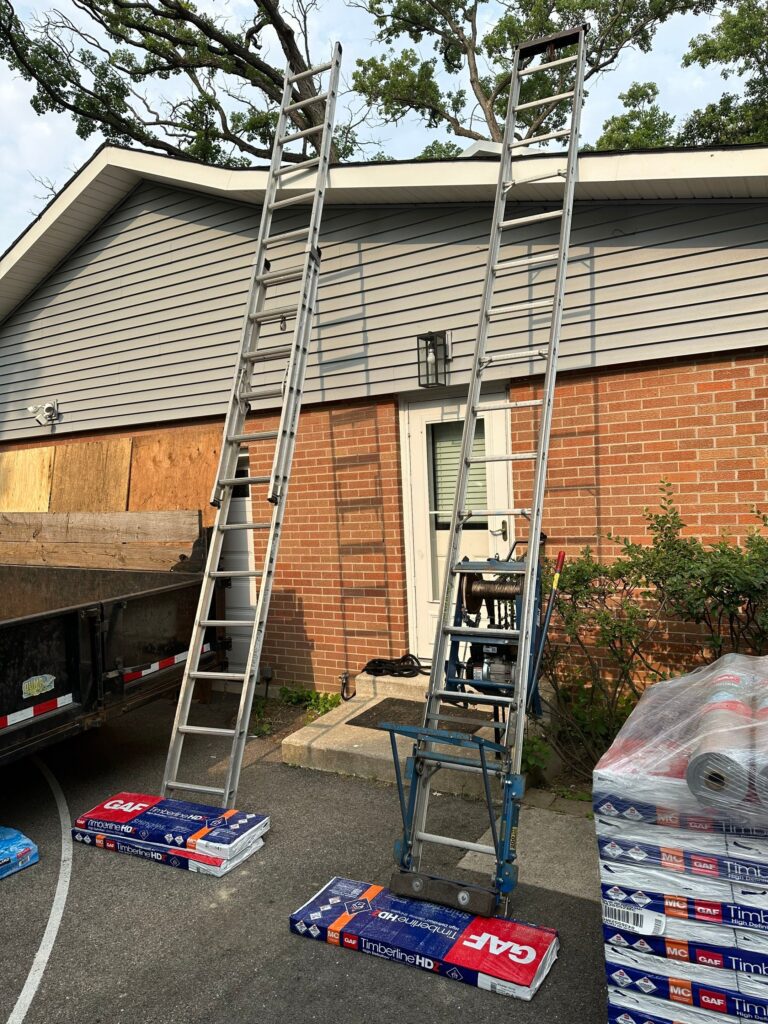 When it comes to the installation of a new roof, it's crucial to recognize that the timeframe can fluctuate based on several considerations. In general, the roof replacement can span from a few days to a few weeks.
Before installing asphalt shingle roofing, the roof must be prepared by removing the old material, inspecting and repairing the structure, and adding new flashing and underlayment. The duration of this preparation varies based on roof size and complexity. Once prepared, shingle installation begins with precise placement, nailing, and trimming to fit the roof's features. The timeline for this phase depends on factors like roof size, layout complexity, weather conditions, season, and the roofing team's expertise. After shingle installation, final touches such as ridge cap installation, trimming excess material, and site cleanup are carried out, with the timeline determined by the roof's size and complexity.
Due to their lightweight nature and ease of cutting, asphalt shingles are easy and quick to install. As a result, the installation of an asphalt shingle roof is typically quicker compared to using alternative roofing materials.
Durability of asphalt shingles on the roof
One critical aspect of owning a home involves consistently maintaining and repairing the materials that safeguard your residence. Dating back to the 1920s, asphalt shingles have been a widely used roofing material for residential roofs over the past century. The typical lifespan of an asphalt roof ranges from fifteen to thirty years. Extending the longevity of your roof can be achieved through preventive maintenance and repairs taken by top-notch roof replacement services.
To ensure a durable and long-lasting roof, it is crucial to entrust the job to a reputable roofing installation and maintenance company. Regrettably, errors made by inexperienced roofers, DIY attempts, or less-experienced roofing contractors can have detrimental effects on your roof's lifespan.
What is the expected lifespan of asphalt roof?
Typically, 3-tab shingles come with a manufacturer's warranty of 25 years, while dimensional shingles offer a 30-year warranty. When properly ventilated and correctly installed, you can anticipate getting approximately 80-85% of the asphalt roof's lifespan. This translates to around 20-22 years for a 3-tab shingle roof and 25-28 years for dimensional shingles.
Remember that ensuring that debris is cleared from the roof, valleys, and gutter line is essential. With regular annual roof maintenance, you can detect and address common roof issues before they escalate and cause significant damage.
Why do I need the GAF Roofing System Warranty?
Roofing contractor Collaborating with a GAF Factory comes with the advantage of providing you with more robust and enhanced roofing warranties to safeguard your recent investment.
Leading roofing contractors who are partners with GAF, the largest roofing manufacturer in the United States, offer GAF's products that combine aesthetic appeal with high performance. Every GAF roof installed by an authorized roof replacement team is characterized by its durability and quality, backed by warranties of up to 10 years.
It provides a traditional look. If you aim to achieve a more conventional aesthetic for your home, asphalt shingles may be your preference. They have not only remained a prevalent roofing choice in recent times but have also enjoyed popularity for many years.
Summary
We hope you found our article helpful. If you're planning a roof replacement and live in Chicagoland, you couldn't have come to a better place! The team at A.B. Edward will be happy to help you with the renovations in such a way that your home will be warm, pleasant and dry again. Don't wait, autumn is coming in a big way!