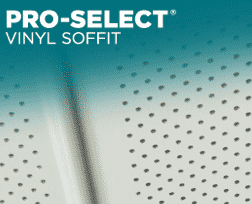 Traditional Vinyl Soffit
Vinyl soffit is available in multiple profiles, textures and colors, providing options for any budget. And when coordinating or complementing vinyl siding, you can be sure of getting the exact color you want. Use it to cover or ventilate, or use non-ventilated panels as a vertical siding accent.
Pro-Select Vinyl Soffit
As our thickest and strongest soffit panel, Pro-Select can handle the most demanding applications.
[divider height="30″ line="1″]
Pro-Tech Plus Vinyl Soffit
With five profiles available, Pro-Tech Plus provides the most flexibility in design and function.
[divider height="30″ line="1″]
Universal Vinyl Soffit
Staying on a budget doesn't mean you have to sacrifice quality when you can use Universal vinyl soffit.
[divider height="30″ line="1″]
###