VELUX skylights are designed for overhead, out-of-reach applications or for in-reach applications that do not require egress emergency escape capabilities. They come in a wide range of sizes and features with a full assortment of blinds available.
More VELUX Products:
The No Leak Skylight | Skylights | Roof Windows | Blinds
Deck Mounted
Combine an insulated glass lens, pre-finished white wood frame and protective aluminum or copper cladding into one unit that mounts directly to the roof deck. The Solar Powered
"Fresh Air" Skylight features a solar panel that captures any available daylight and uses it to recharge a highly efficient, fully concealed, battery powered operator and control system. The battery powered operator is the power source that opens and closes the skylight and the solar panel serves as the charging source of the system.
If you are considering adding daylight to your home, see how easy it is to add daylight and fresh air. Since the Solar Powered "Fresh Air" Skylight is eligible for a 30% federal tax credit homeowners will receive an average of $850* with federal tax credit eligibility which makes this product very affordable.
[divider height="30″ line="1″]
Curb Mounted
Combine an insulated glass lens and maintenance free frame that is designed to mount directly to a site-built curb. Designed for curb mounted installations, the VCE
electric venting skylight is the ideal daylighting solution for overhead applications. It brings in abundant natural light and with the touch of a button, opens to let in fresh air. And if you forget to close it, the VCE also closes automatically in case of rain.
Electrical components – The VCE skylight comes with a pre-installed concealed motor and control system.
One rain sensor that automatically closes your skylight during inclement weather is also included.
[divider height="30″ line="1″]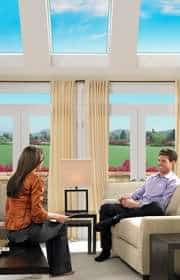 Pan-Flashed
Combine an insulated glass lens and an all-in-one frame and flashing that is designed to mount directly to the roof deck using roofing sealant.
The QPF fixed skylight, designed for self-flashed installations, is perfect for visually expanding areas such as hallways, stairwells, and other closed-in, dark spaces that can be transformed with light and sky views. It provides an economical choice in creating a spacious home that is filled with natural light.
[divider height="30″ line="1″]