A.B. Edward Enterprises, Inc. has grown into one of the most recognized and well respected storm damage repair companies in the service area. Headquartered in Wheeling, IL, A.B. Edward Enterprises, Inc. provides the same service and trusted commitment to every new customer that was provided to our very first customer. We have established ourselves as the premier storm damage repair company in IL and set a standard of excellence that other companies will be forced to match.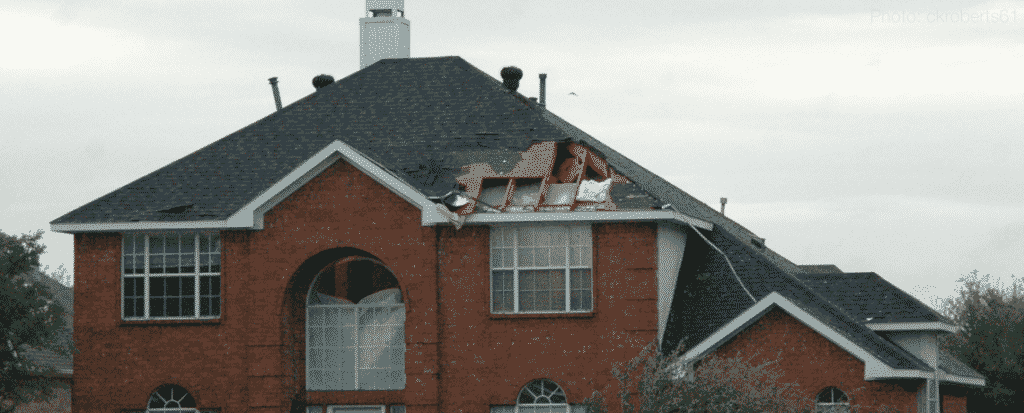 Roof Damage
When most people think of roofing shingles, they are actually thinking of asphalt shingles, the most common type of shingles in the country. Asphalt shingles are made from asphalt re-enforced with either organic material or fiberglass and they are coated with small metallic surface granules that protect the roof from UV-rays that speeds deterioration. Asphalt shingles come in a wide range of colors, sizes and styles. During severe storms asphalt shingles can be seriously damaged and require repair or replacement.
On an asphalt roof, hail damage looks like a dark spot, or bruise, where the roofing granules have been knocked away. In some cases you may find holes, cracking, or missing shingles on roofs with hail or storm damage. After a tornado, you may notice split seams and torn or missing shingles. This can result in leaking and serious water damage, which can lead to mold formation and wood rot, which can compromise the structural integrity of your roof resulting in collapse. In severe wind storms, it is common for shingles or sections of the roof to be missing altogether.
On other types of roofs, including shake (wood), metal, tile and slate, damage can include broken or cracked shingles, missing shingles, torn or split seams, and missing sections of the roof. If a tree limb or other debris has fallen onto your roof during the storm, you may have structural damage, and will want to exercise extreme caution.
Common Signs of Roof Damage
Missing shingles
Bruises or dented asphalt shingles
Cracked or broken tile, slate, or concrete shingles
Granules collecting in gutters or downspouts
Leaks in your roof or ceiling
Dents on vents, gutters or flashing
Exterior Damage: Siding, Stucco and Paint
When a severe storm hits, the exterior of your home sustains the most damage. Hail, wind, heavy rain and flying debris are common causes of exterior damage. If your home has been hit by hail, you may notice discolored spots, dents, chips or cracks in your paint or siding. If you have a stucco home, look for cracking, chipping and holes in the stucco.
Common signs of exterior damage
Dings and dents
Cracks and splitting
Holes and breaks
Chipping and discoloration
Window Damage
In high wind areas, many homes have protective storm shutters to protect exposed glass. However, even with storm shutters, many windows can get cracked or damaged. If your home has been hit by hail, high winds, or a tornado, cracked or broken windows and damaged window casings are the most common signs of damage. Remember, a broken, shattered or missing window is dangerous. Watch out for shards of glass and make sure you board up any shattered windows until they can be repaired.
Common Signgs of Window Damage
Shattered windows
Cracks and holes
Broken panes
Damaged frame
If you are in need of exterior roof repair or siding repair services, please call us at (847) 827-1605.
Handling Storm Damage: Work With Legitimate Roofers
Storm damage is one of the more stressful situations that homeowners can face. Making sure your roof is repaired correctly is vital to keep your family safe and your property investment profitable. Between ensuring you have proper documentation for insurance providers and finding a temporary place to stay, the aftermath of a strong storm can be a mess.
One complication that unfortunately happens to homeowners each year is dealing with dishonest roofing companies. Predatory "storm chasers" often pour into areas affected by inclement weather, taking advantage of homeowners during a vulnerable moment. This makes it all the more necessary for homeowners to be on their guard and ensure they work with legitimate roofs when handling storm damage.
Spotting Scams After Storms
Illegitimate roofers often enter areas in the aftermath of major storms. They promise faster, cheaper services without any proper roofing contract. They usually take payment exclusively in cash and finish as quickly as possible, regardless of the quality or safety of their work. These scam companies take advantage of unsuspecting homeowners under challenging situations. Often, their work is worse than the original damaged roof, especially in the long run. Illegitimate roofers are known to cut corners even at the expense of quality or safety.
Naturally, most illegitimate roofers prefer to stay below the business radar lest people catch on. This makes checking reliable sources like the Better Business Bureau (BBB) vital since dishonest companies tend to avoid them. Scam roofers usually lack proper credentials and licenses. They also tend to control the customers you can ask for references since most of their unfortunate customers would not recommend them.
Scam roofers rarely have a physical location or permanent phone number. This intentional, dishonest anonymity is designed to make it impossible for you to follow up with them. When a problem arises with their "repairs," these companies are usually nowhere to be found. This leaves you on the hook and puts you back to square one with a compromised roof. Your roof may look like it is ready for the next storm, but this is intentional.
Scam companies make it seem like their work is professional, but it is a mess beneath a beautiful facade. They have little concern about following local building regulations, meaning a reputable contractor will have to fix their mistakes. You will likely have to pay these costs out of pocket since scammers never follow up on promises or offer warranties at all.  Scam roofers can void your roof's existing warranties and increase your home insurance costs.
Working With Legitimate Roofers
The difference between working with legitimate roofers and "storm chasers" is night and day. Legitimate roofers have the right licenses, certifications, training, and insurance to do your roof right. Legitimate roofs are also well-versed in complying with local building regulations and your existing roof warranties or insurance. Their contractor insurance will cover any accidental property damage or injuries during the project.
Legitimate roofing companies offer workmanship warranties, too. If anything goes wrong with your roof after a project and it is a result of a mistake, legitimate roofers cover repairs at their cost. Professional roofers will accurately document any damage for your insurance provider. Legitimate roofers can assess damage based on their experience, so you get the right insurance coverage.
Unlike scammers, legitimate roofers have physical locations and stable contact information. They usually have listings with the BBB or other reputable business agencies. Most of all, legitimate roofers will take the time to answer your questions rather than rushing you through to make a quick buck. The right roofing company can set you up for better storm preparedness for years to come.
Why Choose Our Roofing Services for Storm Damage Repair?
If you are like most people, looking for the right roofing company to repair storm damage to your home feels stressful. This is only natural. Storm damage is a worrying event because your roof is one of the essential parts that keep your home safe and dry. However, your roof is also an expensive investment that takes work and upkeep to maintain. This makes finding a reliable, local roofing company with a solid customer reputation a vital part of repairing storm damage.
Maybe you have heard of the work we do at A.B. Edward Enterprises, and perhaps this is your first time seeing our name. Either way, we here at A.B. Edward make it our mission to guide homeowners through the roof repair process. As a proud Chicagoland company, we work every day to give our customers only the best. So, if you are wondering why you should choose our roofing services for storm damage repair, look no further.
Roofing, Siding, Windows, and Gutters
At A.B. Edward, we do it all. As a Chicago area exterior specialist, we are the one-stop shop to repair storm damage to roofing, siding, windows, and gutters. We have numerous industry partnerships with other leading companies in our industry to deliver the best for our customers. We perform high-quality residential exterior services, including roofing, siding, window replacement, gutter maintenance and replacement, and masonry.
Our Team of Specialists
A.B. Edward is a family-owned and -operated company. We opened our doors in 2003, and since then we have been privileged to deliver quality services to over 6,000 Chicagoland homeowners in over 10,000 local projects. We can provide these spectacular results on time and on-budget because our contractors are properly trained, licensed, and bonded. Our team is certified and experienced with in-house installation.
Our team of specialists is in-house, so our customers know who is working for them. Each team member is a craftsman in their unique trade, and our owners are involved in each project for consistent quality and communication. Best of all, our team offers quick service response times to all our customers. Our field crews are followed live using GPS to quickly and efficiently direct them to locations in coordination with our administrative team.
Our team of specialists includes our owners, project managers, field crews, estimators, fabricators, and support staff.
Why We Do What We Do
Our mission and our customers mean the world to us. We proudly hold up our A+ Better Business Bureau rating as a reflection of that. All of us here at A.B. Edward are local, skilled home remodelers who are committed to giving customers the best service and support. We want every finished exterior remodel to please our customers to the fullest extent possible. From our project managers to our field crews and support staff, our whole organization is geared toward delivering the best storm damage repair possible. Whether you have damaged roofing, flashing, gutters, or windows, we can help get your home back in perfect order. Our team is well prepared to deliver quality results to each customer, no matter how unique or how big the project is. This has earned us the reputation as a local, skilled roofing company that deals honestly with customers and reliably executes improvement projects.
We offer year-round exterior remodeling and repair services, so contact us any time for your next home project. Call us at 847-827-1605 or contact us here for a free, no-obligation estimate now!