Chicago Slate Roofing Company – Natural and Synthetic Slate
Highlighting the Benefits and Disadvantages of Natural and Synthetic Slate Roofing Materials
If you have decided a professional Chicago slate roofing company, the odds are pretty good that they've asked you to pick between traditional natural slate roofing materials in synthetics slate roofing materials.
Both of these materials provide for almost aesthetics, and they perform pretty much the same when they are installed on the roof, but they are in a world of difference between these option and you'll need to make sure you're working with the right Chicago slate roofing choose the perfect material for your needs and your budget going forward.
In this quick guide we are going to highlight the differences benefits, and disadvantages behind using both natural slate materials and synthetic slate materials. Hopefully you feel more comfortable using the roofing components by the time you're done with the information we offer below!
Chicago slate roofing materials
Some of the most stunning homes throughout Chicago (and the rest of our great nation, for that matter) take advantage of "lifetime" roofing systems that are built around natural slate roofing materials – some of them more than 100 years old!
A very traditional material on luxury home, natural slate is a heavy, solid, and gorgeous roofing material, producing the kind of roof that draws your attention immediately in the way that architectural shingles and asphalt shingles never could.
Natural slate comes in a wide variety of different colors, the shingles can be shaped by hand to custom fit any roof, and because they are made out of stone is a feature at least a 100 year warranty and should last far longer than that without having to be replaced or repaired.
At the same time, natural slate shingles are more than a little bit expensive right out of the gate. You can expect to spend two or three times what you would have spent on traditional shingles or architectural shingles when you decide to go in this direction.
A slate roof is also incredibly heavy, with anywhere between 800 and 1500 pounds per square inch pressing down on the framing below. You will need be fear framing for sure to safely have these kinds of natural shingles installed on your property.
Finally, because slate shingles have to be hand cut and hand shaped to the roof the installation process is a bit longer and a bit more specialized than traditional solutions. This in turn is going to make it slightly more expensive.
Synthetic slate roofing company chicago materials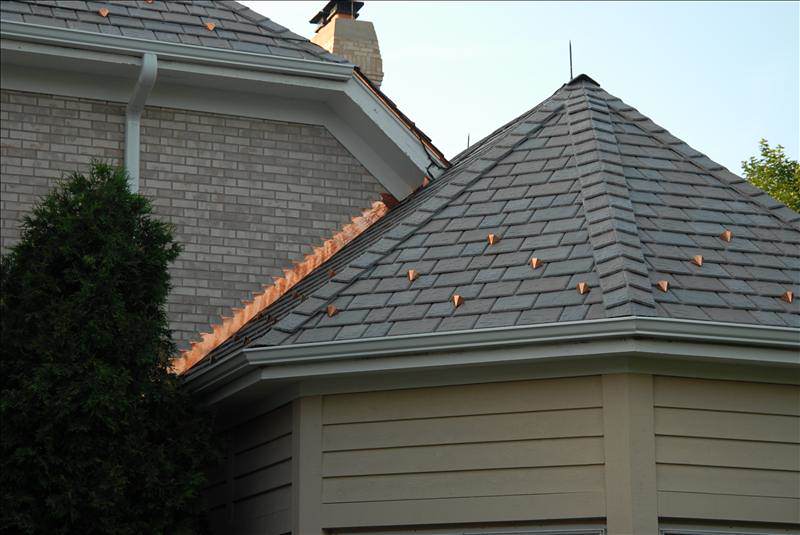 Synthetic slate roofing materials look almost exactly like traditional natural slate, but will often cost 50% less, weigh 50% less, and sometimes are even made utilizing recycled materials that better improve the environment.
Chicago slate roofing contractor services throughout the area often times recommends synthetic slate roofing materials for their clients. It allows these clients to have the kind of high-end look they are shooting for without having to spend a small fortune on roofing materials, doesn't force clients to completely reframe the roof to support the weight of natural slate, and clients get as long-lasting a material as natural stone without the other hassle and headache of installation that traditional slate brings to the table.
On the flipside, synthetic slate roofing materials haven't been around as long as natural slate (obviously) and it's impossible to know exactly how long these shingles are going to be able to withstand everything that Chicago weather throws at them.
They are designed and engineered to last as long as traditional shingles, and will certainly cost less to replace if you need the help of Chicago slate roof repair services, but they may not provide you with the hundred years or more worth of performance that you are expecting.
Hopefully now you have a better idea of what you're getting into when it comes to slate roofing option. Work with the best Chicago slate roofing company around to help you choose the perfect options for your needs and your budget and you have nothing to worry about!
Homeowners opting for a slate roofing also enjoy lower insurance premiums because of having a fire resistant roof– since slate is made from stone, it doesn't catch fire easily. With most of the slates having an absorption index of less than 0.4 % they are very resistant to water and therefore, they are not prone to cracking with the change of period. Due to the level surface area as well as very easy placing they can stand up to intense winds and they can easily endure via serious hailstorm storms without much damage.
It also reduces your energy costs because of its natural insulation capabilities. Whether you want to preserve cooler air inside or warm air, a slate roofing system doesn't let it easily escape.
Did you know that hard slate roofs will last anywhere from 75 to 200 years! 
Slate roofs are not just durable, they are additionally water tight and also resistant to the weathering due to the natural elements. For centuries slate has actually been truly well-known for its organic beauty and exceptional resistance to weathering. Although most of the residents pick slate roof for its visual charm, purposefully or unknowingly they also wind up enhancing their home worth because of many perks of having a slate roof covering.
Although the top qualities of slate vary with the attributes of the rock it has actually been obtained from, the slate for your roofing must possess both sturdiness as well as hardness. When it is difficult it's easier to punch in nails and destroy the items to different sizes without it breaking or breaking at the seams.
Be sure to read our online reviews and contact us today for a FREE Estimate.