Why Choose Architect Series?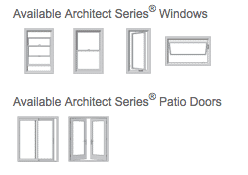 – Your home's design calls for stunningly beautiful craftsmanship.
– The authentic, long-lasting beauty of wood.
– You want custom-crafted views.
– You're looking for added security and comfort.
[button title="View Architect Series Brochure" link="https://brochure.pella.com/architect-series/" target="_blank" color="blue" size=""]
[nggallery id=75]
[divider height="30″ line="1″]
Exquisitely detailed wood windows and patio doors.
Built like fine furniture. All Architect Series products feature distinctive, fine-furniture detailing that adds drama and architectural interest to your home, inside and out.
The most authentic look of individual windowpanes. Pella's Integral Light Technology® grilles create the realistic look of divided light while providing exceptional energy efficiency.
Stunning hardware in rich patinas. Choose from Pella's own collection of hardware styles and finishes or lavish your windows and doors with Rocky Mountain® Hardware — crafted in solid bronze with hand-applied finishes.
[divider height="30″ line="1″]
Nothing compares to the beauty of wood.
Exquisite wood types. The natural beauty of Mahogany, Alder, Douglas Fir, Pine, White Oak1, Cherry1, Red Oak1 or Maple1 to blend tastefully with other woods in your home.
Superior protection and performance.
Pella's exclusive EnduraGuard® triple wood protection provides advanced protection against moisture, decay, stains from mold and mildew, as well as termite damage.
Low-maintenance aluminum-clad exterior with our EnduraClad® protective finish that doesn't need painting. Available in standard and custom colors that resist fading and chalking and protect for years.
[divider height="30″ line="1″]
If you can dream it, Pella can design and build it.
Unique shapes. From extra tall to extra wide to curved or angled frames, Pella can create the perfect windows and doors for your home.
Standard and custom sizes. Larger sizes are available as part of the Architect Series standard, made-to-order product offering. Pella can also custom build nearly any size window or patio door.
One-of-a-kind grille patterns. Pella can create intricate grille designs that will turn your windows or doors into unique works of art.
Gorgeous glass. Whether you want a unique color, texture or pattern, Pella artisans can create a custom glass solution for you.
[divider height="30″ line="1″]
Protect what you value most.
Outstanding resistance to extreme weather, noise and intruders with HurricaneShield® impact-resistant products.
Offers strong protection from wind, water and flying debris in hurricane-prone regions.
Laminated glass dramatically cuts outside noise like traffic and lawn mowers.2
Added protection against intruders and forced entry – the interlayer cannot be easily penetrated, even if the glass is shattered.