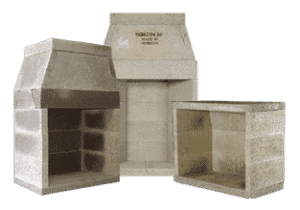 Isokern modular masonry fireplaces have sizes and designs for any application. Isokern indoor and outdoor fireplaces can be finished with a variety of materials… natural stone, brick, stucco, veneers, and cultured stone. Click on one of our fireplace models below to learn more about each model and discover which fireplace is right for you.
[divider height="30″ line="1″]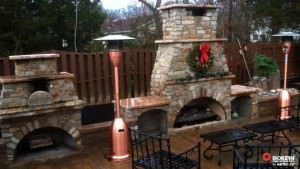 Finished Outdoor Fireplaces
Outdoor Fireplaces from Isokern are available in a variety of Models – the Standard, the Magnum and the Vent Free.  These are a safe, affordable and easy to install option for your backyard and patio additions.
All Isokern Fireplaces can be finished in a variety of ways and are customizable.  Finish your fireplace with brick, stone, stucco, veneers and more!
[divider height="30″ line="1″]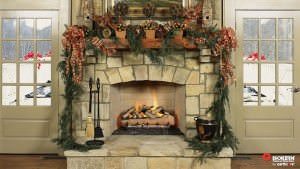 Finished Indoor Fireplaces
Isokern Fireplaces have been the top spec'ed fireplace by Architects and Builders alike for decades.  Now manufactured in the USA, Isokern Fireplace and Chimney Systems are tested and listed for UL 217 and UL 103HT (respectively) and are manufactured in a highly controlled fashion to ensure that our products continue to be the best in the market.
There are 5 product lines with a variety of sizes to ensure that we have a fireplace for every application – Indoor, Outdoor, for Combustible and Non-Combustible Flooring, Wood and/or Gas Burning and more and can be finished in any way that the homeowner desires.  These high end fireplaces are unique in their refractive properties and reflect heat from the fire out into the room instead of absorbing like other site-built concrete, metal and masonry fireplaces do.