James Hardie Siding Chicago Has Beautiful Siding Hue's
Thinking about taking the plunge into the deep end…of the color palette? Jump in! You won't be alone. More and more Midwest homeowners are opting for main siding colors with some depth, like deep blues and grays, rich greens and bold reds.
And if you clad your home in James Hardie® siding and trim, you can feel secure knowing your bold siding color will stay vibrant longer with less maintenance compared to field-applied paint. ColorPlus® Technology helps resist damaging UV rays that can eventually dull the finish over time.
Let's take a closer look at homes clad in the deep colors of the James Hardie ColorPlus palette, like Evening Blue, Iron Gray, Deep Ocean and Countrylane Red.
Bold Blue
This Midwest home is clad in HardiePlank® lap siding and straight edge HardieShingle® siding in Deep Ocean. The bold blue stands out, especially when teamed up with HardieTrim® boards in crisp Arctic White.
Great Gray
This updated Cape Cod clad in HardiePlank lap siding in Iron Gray calls Illinois home. The trendy, dark hue adds a dose of contemporary elegance when paired with Arctic White HardieTrim boards. The contrast between the two colors provides a clean pop that'll turn heads.
Intense Brown
This suburban home is clad in HardiePlank lap siding in vibrant Evening Blue with straight edge HardieShingle siding in the gables in a gray-brown Timber Bark hue. When the two main siding hues are combined with a more neutral trim color, the exterior palette feels cohesive with the classic red brick and brownish-red tin porch awnings.
Rich Red
This quaint bungalow is clad in HardiePlank lap siding in Countrylane Red with HardieTrim boards in beige. The bold red hue feels at home on this schoolhouse-resembling abode, and the vibrant color makes the river rock columns a focal point.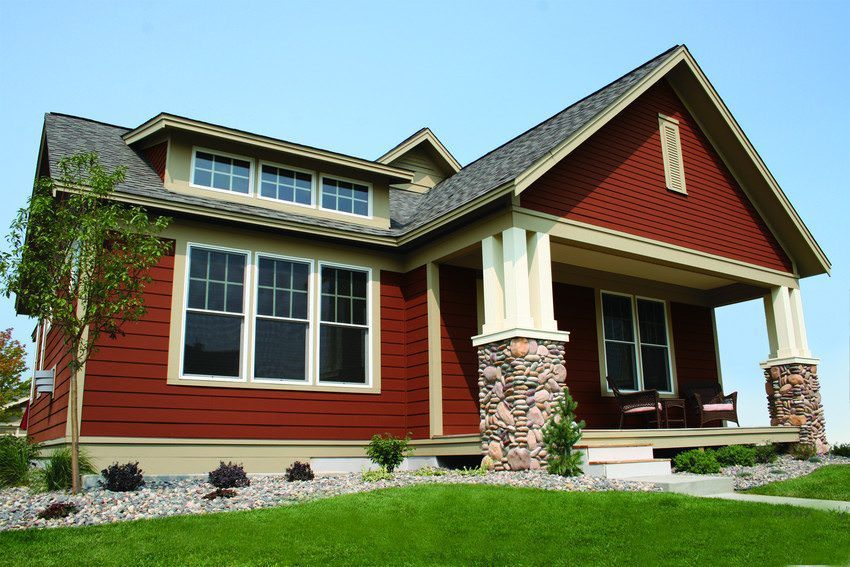 If you're drawn to deeper hues but are a little intimidated to take the leap to clad your home in a bold hue, try out the new James Hardie Color Tool. It's a simple way to get a taste of your new exterior palette before you commit. Then you can confidently take a dive into the deep.
Here are a few more articles we are recommending for you.
Are you in need of a repair or replacement?
Are you a previous client of ours? We would LOVE to hear your feedback!
Read some of our latest reviews online: