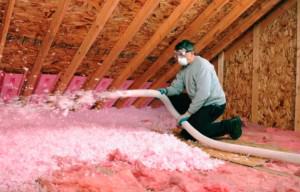 Fiberglass Home Insulation Contractor
Whether it's winter or summer, adding insulation to your home is the most effective way to start saving money on your energy costs immediately. Proper insulation levels will keep heated air from migrating out in the winter and keep the house cooler and reduce the load on air conditioning equipment in the hot Chicagoland summer. By adding insulation to your home you can expect to save 30-50 percent on your heating and cooling costs.
– Adding foam or blown insulation to attics and walls
– Ensuring proper ventilation in attics
– Installation of batting insulation
A damaged or improperly insulated roof is like a giant open window – and that puts your HVAC system into overdrive! Let North Shore's leader in Home interior and exterior services "A.B. Edward Enterprises" install money saving fiberglass insulation in your roof.
Add value to your home with some R-value
Whether you want traditional rolls of fiberglass or loose fill fiberglass for uneven or hard-to-reach places, you can lower your energy usage and invest in your home at the same time! From new construction insulation to refurbishing the insulation on older homes, our experienced crew specializes in insulating residential structures.
Insulation pays for itself in no time:
– Fiberglass rolls
– Loose fill fiberglass
– New home insulation
– Insulation upgrades for existing home
– Attic insulation
– Wall insulation