Fakro Skylights – Window Installation Company

Fakro Skylights are a great addition to almost any room in the home, providing up to 3 times more light than a regular vertical window of the same size. All FAKRO skylights filter UV rays (Low-E) and feature tinted glass for increased thermal performance and energy savings. Available in deck mounted and curb mounted versions in a variety of standard sizes FAKRO skylights are perfect for new builds and retrofits. A.B. Edward Enterprises, Inc. has a A+ BBB Rating and is an Angie's List Super Service Award company. Call us today at (847) 827-1605 for a FREE Estimate on replacing your windows.
[divider style="single" border="small"]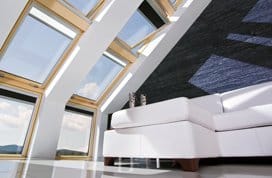 — Also, be sure to check out our complete line of Fakro Roof Windows! —
FAKRO manufactures a range of roof windows that transform attics into comfortable living spaces. The main difference between a roof window and a skylight is that a roof window opens like a regular window on side hinges or pivoting at the center or top. Fakro Roof windows operate manually with the turn of a handle and are also available in electrical versions.
[divider style="single" border="small"]
Fakro Skylight Construction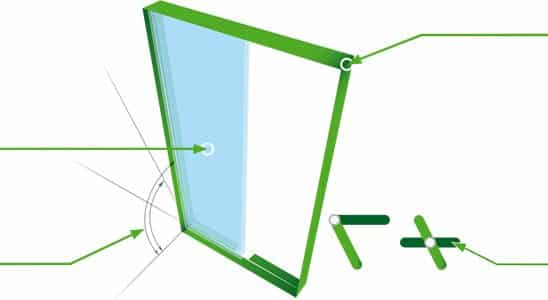 Special features of FAKRO skylights
FAKRO's skylight design is suitable for the roofing industry's demand and style of construction. Our simple and practical installation system, together with a newly designed "warm" frame, and a Low-E, single chamber glazing result in an Energy Star® efficient skylight. These features allow for fast and easy one-person installation and a leak-proof Limited Lifetime Warranty.
Premium Deck Mounted Skylights
– Finished wooden frame; pressure-treated, double coated with clear acrylic lacquer
– Energy Star, Low-E, UV filtering glass; laminated or tempered glazing
– Single chamber filled with thermal-regulating inert argon gas
– Perimeter seal wooden frame for "warm" roof boarding-skylight frame joint
– Bracket-free, one-person installation
– Type EL step or EH-A high profile flashing required
– Template and installation hardware included
[divider style="single" border="small"]
Premium Deck Mounted Fixed Skylight FX
The main purpose of the fixed skylight is to take advantage of natural light. Natural light in homes increases the comfort of living and positively influences health. Simple construction of the FX skylight guarantees hassle free use for a long time, which is particularly important when the skylights are installed in high ceilings.
[divider style="single" border="small"]
Premium Deck Mounted Venting Skylight FV
FAKRO FV manual venting skylights allow you to appreciate the light and fresh air in places where it may be more reasonable not to use electric devices due to safety precautions. FV skylights are also recommended for places where there is no access to a power source. A special control rod enables opening and closing the skylights installed high in the ceiling (out of reach). An insect screen, installed as standard, protects from mosquitos and other insects, so the skylight can be left ajar also during dry summer nights.
[divider style="single" border="small"]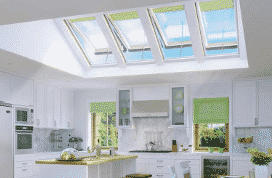 Premium Deck Mounted Electrically Operated Venting Skylight FVE
FAKRO FVE electric venting skylights, give you the comfort you were looking for. FVE skylights not only let the light in, it also allows active circulation air. Thanks to the technology used to make this product, gives you a peace of mind. Originally equipped with two rain sensors, it automatically closes when it starts to rain. Such feature can help you avoid many unpleasant surprises. If you have enough of light, just block the light with one of the accessories.
[divider style="single" border="small"]
Solar powered Deck Mounted Skylight FVS
FAKRO FVS solar powered deck mounted skylights are the autonomous products which do not require connection to the mains due to an applied photovoltaic panel connected with integrated battery. FVS skylights are ideal solutions for out of reach applications. Beside the natural light, you can also enjoy some fresh air. FVS skylights are equipped with rain sensors which are not active when the skylight is closed and are activated with a few seconds delay only after opening the skylight.
[divider style="single" border="small"]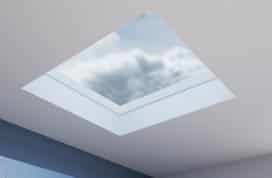 Universal Curb Mounted Skylight FXC
Newly developed curb mounted fixed skylight, incorporates simplicity of installation, long trouble-free use with the beauty of a sleek, modern design. Following world design trends of electronic devices, FAKRO has developed curb mounted skylight with completely (smartphone like) flat surface, allowing installation on any type of roof in any direction you wish.
[divider style="single" border="small"]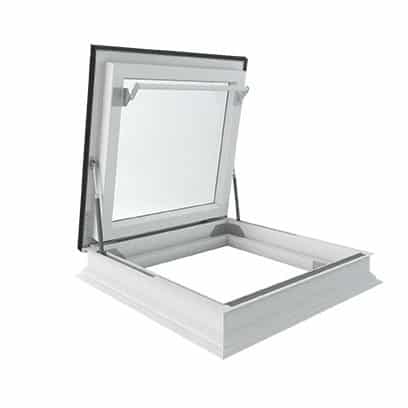 Flat Roof Access Skylight DRF DU6
Fakro DRF flat roof access skylight is an energy-efficient hatch that acts as a skylight while providing access to flat roofs. A special opening system of patented hinges and gas springs safely open the window and secure it in the open position at 80 degrees. This window utilizes Fakro DU6 triple-pane glazing mounted on insulated multi-chamber PVC frame. "Infinity glass" top surface design profile has a large glazing area with up to 16% more glass surface than standard frame designs. The DRF is also available in a domed version.
[divider style="single" border="small"]