Chicago Roofing | Chicago Roofing Contractors (847) 827-1605
A.B. Edward Enterprises, Inc is a family-owned full service roofing contractor serving Chicago and its surrounding suburban areas. Since 2003 we have provided roofing replacement and roof repair services for over 4000+ homeowners. 
We provide professional  and customized roofing solutions based on your homes specific needs along with having over 13 years of experience in every possible roofing and sheet metal situation. If you need a roof replacement, we can provide you with the right reasons for each roof type and which solution is best for you.
Emergency roof repair, hail damage, storm roof damage – please contact us.
When it comes to roofing in Chicago, look no further when it comes to affordable and professional services. We carry all types of industry leading roofing products like natural slate roofing, cedar shake roofing, asphalt roofing, synthetic shingles, metal roofing and more.
What to look for when hiring a Chicago roofing company:
In the market for a new roof? Well you already know what a massive investment it can be. There are just too many "Chuck in a Truck" companies out there trying to leverage profit while sacrificing quality. You can have confidence that you are dealing with a fully licensed and insured roofing contractor with an unblemished track record of performance and customer satisfaction. Just take a look on the web on what our customers are saying about us.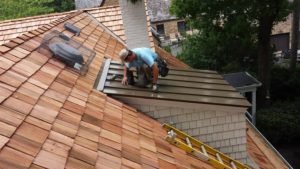 Here are some basic things to look for that will help you narrow down your selection and choose the right roofing contractor for your project.
If you're taking bids for your roofing project, don't immediately accept the lowest bid. A low bid may be an indicator of poor quality materials or sub-standard work.
How long has the roofing contractor been in business? A company with an established business is likely to be around when you need them. If you have a warranty, you want to make certain someone is around to honor it should there ever be a problem.
Make certain the roofing company is licensed and insured.
Ask for references. A reputable roofing contractor will be happy to provide you with a list of previous customers. Just be aware that you'll most likely be getting a list of satisfied customers. ALWAYS look online and see unsolicited reviews.
Check with the Better Business Bureau. This is where you'll find those unhappy customers if there are any. Remember that any company that deals with a large volume of customers can get a few complaints. What's important is how they handled those complaints.
Look for a roofer that has good communication skills. You want someone that you can talk to about your project, that will readily answer all your questions and that will keep you informed every step of the way. Poor communication can lead to misunderstandings, a finished job you may not be happy with and unwelcome surprises on your final bill.

Chicago Roofing (847) 827-1605

A roofing company is only as good as the workers they employ. What kind of training or skill levels do they demand of workers? Do they provide safety training programs? Workers that follow safety training procedures haven been proven to have less accidents on the job.

Does the roofing company crew clean up the job site? If they need to remove old roofing materials is the clean up included in the cost? Some contractors are very fastidious and will clean up the site as they go. Others may wait until the end of the job which can leave your property looking unkempt and can also create a hazard.
Get a written contract. While an old fashioned handshake is nice and a sign of a courteous contractor, you still need to have everything in writing. This includes the scope of the project, the materials to be used and their specifications, the dates for beginning and completion of the job and an itemized list of cost for all materials and labor.
[divider]