Home Carpentry Professionals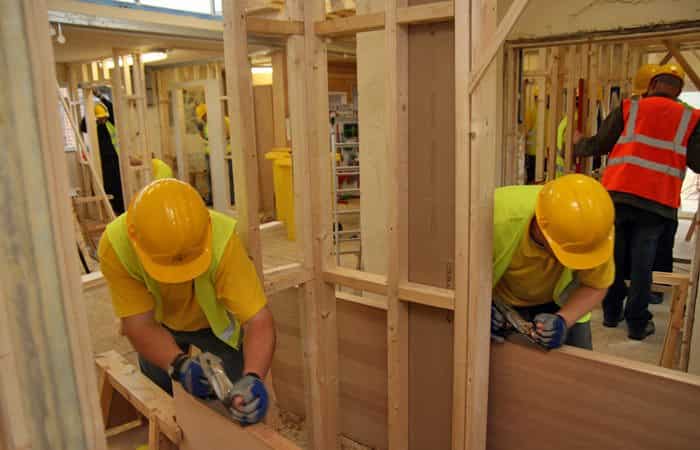 A.B Edward Enterprises, Inc. is a full-service general contractor that specializes in complete remodeling, custom woodworking, design-build and general construction of all kinds.
Precision and Accuracy – Our laser level obtains the most accurate wall framing, soffits, chair rail, base cabinets and footing installation. These items will be level or plumb within 1/8″ in 100′. Now that's precision and accuracy!
Speed AND Quality – We use pneumatic tools which enable us to be productive at installing quality products and allowing us to install trim pieces at precise locations.
Quality Assurance – Drywall applications – you will be amazed with our mechanical box tools assuring the most even and thinnest application of joint compound.
Safety Compliant – When install maintenance free siding products we use pump jacks to elevate to our work areas. Our works wear safety harnesses on our roof projects. We use safe way scaffolding for the protection of our workers and others.
Training & Continuing Education – We are constantly studying new types of materials, from touring manufacturing plants such as Pella® Andersen® and Marvin® window and door companies. We also continue our education as required through our license renewal. Some courses that we have studied are mold, lead abatement, insulation, ventilation accurate estimating procedures.
Project Costs – We believe in a fair trade. We don't mark up any material. We charge for quality craftsmanship. We are Licensed and Insured in Illinois for the protection of your financial investment in your home. We encourage you to obtain bids from other companies BUT when you compare the prices compare the high quality we put into every job.
Our Carpentry Services Include:
– Rough carpentry and framing
– Room additions
– Custom interior and exterior trim work
– Whole house remodeling
– Siding: Hardi board, cedar, vinyl, aluminum soffit, fascia
– 2nd floor additions
 – Roofing
– Drywall
– Basement completions
– Custom decks: beautiful cedar, maintenance free treated lumber
– Pole barn buildings
– Garages
– Dormers
– Windows and doors: Andersen®, Marvin®, Pella Vinyl replacements, front entry doors, skylights, bay or bow windows, egress windows, patio doors, Marvin® tilt packs
– Wood floors
– Ceramic tile
– Trim: crown mold, chair rails, casing, base entertainment centers and cabinets
– Insulation. Foundation, floor, walls, attics and ventilation.
– Railings
– Kitchen remodeling: custom built cabinets; granite, Corian®, laminate or ceramic tile counter tops