Cedar Shake Roofing Benefits
At our Chicago cedar shake roofing company, we believe in the beauty, quality and durability of cedar shakes. Our trained and certified technicians know all of the best cedar shake products, as well as how to install them so that they are very secure and look their very best!
Today, we'd like to help you learn about the benefits of cedar shake roofing. We think that you should consider gorgeous cedar shakes for your own home!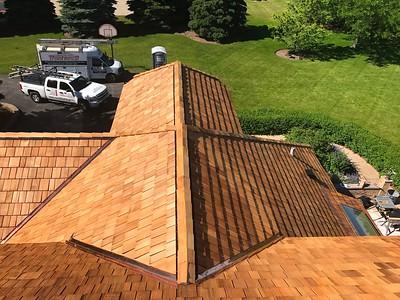 When you do choose cedar shakes, you'll find that they are energy-efficient. In fact, they provide natural insulation which is double that of shingles made from asphalt!
As well, these roofing materials look wonderful. People who opt for cedar shakes love how much character, dimension and richness they provide. If you want to boost curb appeal and increase the resale value of your home, then you should know that investing in genuine cedar shakes will be a smart strategy.
These cedar shakes are also very durable. Regular maintenance will keep them looking wonderful and will ensure that they keep protecting your home from the elements for years to come.
You'll find that these types of roofing material are fine choices for keeping out rain, snow and wind.
Choose Us for Pro Installation
We're a family-owned business and we've been around since 2003. We have a perfect A+BBB rating and we've helped over four thousand people in the Chicagoland area, by giving them high-quality and beautiful roofs which are very protective.
Our Chicago cedar shake roofing company is successful. The company thrives because we care about each and every job that we do. We offer our clients great communication, as well as guidance and support which is based on years of experience in the roofing business.
When you choose us, you'll access expert installation, as well as a pleasant customer service experience. We never cut corners and we treat every customer with the utmost respect.
Now that you know more about the benefits of cedar shake roofing, you'll be ready to move forward and contact our team today. We'll discuss your needs with you and then do a consultation. After the consultation, one of our trained and certified roofers will provide you with a realistic quote.
It's really that easy to get the ball rolling! We love what we do and we want your business, so please connect with us by calling or emailing our company today.
Here are a few more articles we are recommending for you.
Are you in need of a repair or replacement?
Are you a previous client of ours? We would LOVE to hear your feedback!
Read some of our latest reviews online: