Bays and Bows are more than just windows. They are combinations of windows that reach out into the world and capture the view.They fit your home perfectly because each is custom designed and manufactured to the exact size you desire.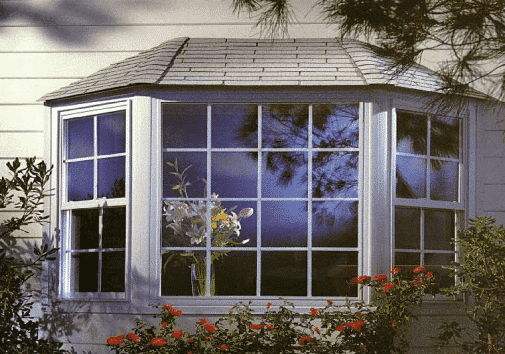 Bay Windows
Traditionally, Bay windows are made from three windows. A large picture window is flanked by smaller double-hung or casement windows on the sides that are set at 30º or 45 degree angles. Bay windows are ideal for accentuating and enhancing view and offer a great way to add a window seat. Bay windows can also be as cozy or expansive as you wish.
Bow Windows
A Bow window is made out of 4,5 or 6 projected and joined window units, usually with the two side windows vented. Bow window feature a graduated, curved shape. The head and seat boards of Bow & Bay windows are finished in either oak or birch 1.25″ thick externally grated plywood.
Features of the 6200 Bay and Bow Window:
– Bays are composed of 3 windows connected at larger angles for maximum exterior projection
– Bows are composed of 3 to 6 windows connected at smaller angles for a more rounded, or "bowed" exterior projection
– Combinations of any non-architectural shape 6200 windows can be used
– Jamb depth is custom made to fit into your opening
– Built with high quality exterior graded 1-1/4" Oak or Birch unfinished plywood
– Plywood exterior surface covered with vinyl backing for additional protection
– Steel threaded rods used for structural support
– Connections injected with insulating foam
– Bottom trim allowing optional 2" foam board insulation for underside of window
– Minimum size of Bay or Bow depends on combination of individual windows
– Maximum Bay or Bow width is limited to 144"
– Exterior and interior trims matching window finishes
– Limited lifetime window and 20 year insulated glass warranty